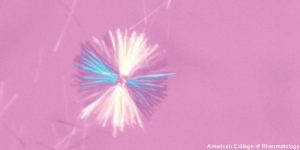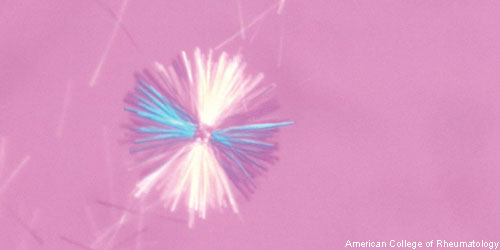 ACR Convergence 2021—Although most rheumatology professionals would consider gout one of the most treatable conditions we manage, the incidence and prevalence of gout is increasing worldwide.1 Adequate diagnosis and treatment, especially in patients with cardiovascular (CV) comorbidities, remain challenging.
At ACR Convergence 2021, Ralf Thiele, MD, an associate professor of medicine in the Allergy/Immunology division of the Department of Medicine, University of Rochester, New York, provided an excellent overview of available imaging modalities in gout, comparing and contrasting musculoskeletal ultrasound and dual-energy computed tomography scan (DECT). Hyon Choi, MD, DrPH, a professor of medicine at Harvard Medical School and director at the Gout and Crystal Arthropathy Center at Massachusetts General Hospital, Boston, then followed with insights into the intersection between gout and CV disease.
Gout & Imaging
The gold standard for the diagnosis of gout remains the detection of monosodium urate crystals on synovial fluid analysis, but joint aspiration is not always a viable option, and specimen handling and interpretation may be affected by experience and training. Fortunately, advanced imaging has an evolving role in the diagnosis of gout.2
Ultrasound
Ultrasound is safe and available for bedside use, and its use in the diagnosis and management of gout continues to increase in popularity. Dr. Thiele highlighted sonographic features highly suggestive of gout: double-contour sign, tophus, aggregates (i.e., snowstorm) and erosions. Consensus-based ultrasound definitions of elementary lesions in gout have been created and demonstrate good reliability.3
The double-contour sign (i.e., an abnormal hyperechoic band of urate material overlying articular cartilage) is particularly useful because it's sensitive to change; that is, it goes away when gout is appropriately treated.4 "Of note, calcium pyrophosphate crystals are typically found within the cartilage, but may break through and deposit over the luminal surface," Dr. Thiele said. "Double-contour sign is typical for monosodium urate deposition in joints, but calcium pyrophosphate disease remains on the differential."
Tophi are also appreciable on ultrasound, and power Doppler can identify hyperemia of matrix tissue associated with tophi in both symptomatic and asymptomatic patients. "Tendon insertion sites are a preferential location for tophus formation," Dr. Thiele said. "Of note, rheumatoid nodules may appear similar on physical exam, but have a different sonographic appearance."
Aggregates, commonly called snowstorm, are another sonographic lesion seen in gout, and the differential for these includes basic calcium phosphate crystals. "Erosions are a later gout finding," Dr. Thiele said. "Ultrasound is slightly more sensitive for their detection than conventional radiography, and magnetic resonance imaging (MRI) typically is not specific enough for diagnosis. So ultrasound is particularly useful for detection of early gouty erosive disease," he said.