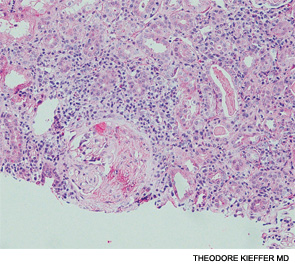 The kidney biopsy showing cresentic glomerulosclerosis.
Granulomatosis with polyangiitis (GPA) is an antineutrophil cytoplasmic antibody (ANCA)–associated systemic necrotizing vasculitis that affects the upper airways, lungs and kidneys. It can involve other organ systems, but gastrointestinal (GI) involvement is uncommon. We present the case of a 35-year-old male with a new diagnosis of GPA and severe life-threatening GI manifestations.
Case Report
A 35-year-old white male was admitted to an outside hospital with pneumonia, new skin lesions, and respiratory and renal failure. He was placed on mechanical ventilation. There was concern for vasculitis; labs revealed a low serum complement C4, marked proteinuria and a positive C-ANCA/proteinase 3 (PR3) antibody. An illicit drug screen was negative for cocaine. In addition, the serum cryoglobulins, glomerular basement membrane antibodies, anticardiolipin antibodies and lupus anticoagulant were all negative.
A renal biopsy showed diffuse necrotizing and crescentic pauci-immune glomerulonephritis, consistent with ANCA vasculitis. Patchy acute tubular necrosis, likely secondary to glomerulonephritis, was also seen. Skin biopsy from the dorsum of the hand showed necrotizing leukocytoclastic vasculitis. Transbronchial lung biopsy on the same day showed distal airway tissue with clusters of neutrophilic necrosis with a focus of leukocytoclastic vasculitis. He was diagnosed with a C-ANCA-positive vasculitis consistent with GPA.
He was treated with methylprednisolone 500 mg intravenously for three days and three cycles of plasmapheresis. Rituximab was chosen for induction therapy, given in a dose of 375 mg/m2 IV weekly for four weeks.1 The steroids were tapered after the pulse dose. He tolerated the first dose of rituximab well, but shortly afterward, he developed severe GI hemorrhage requiring a transfusion of 12 units of blood.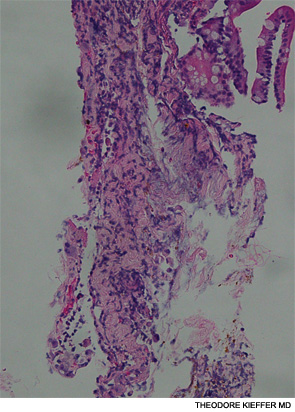 Biopsy of the jejunal ulcer seen on esophagogastroduodenoscopy.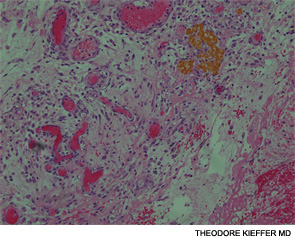 The resected jejunum with the transmural defect and serositis.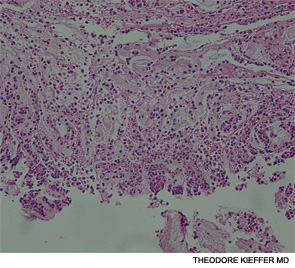 The resected jejunum showing ulcer.
An esophagogastroscopy on the eighth hospital day had shown a normal proximal and middle third of the esophagus. There were a few segments of possible Barrett mucosa extending above the gastroesophageal junction. Focal mild erythema with erosion in the cardia was noted. Because of continued bleeding, he underwent visceral arteriogram the following day, which showed active extravasation from a branch of the gastroduodenal artery and severe hyperemia involving the second and third portions of the duodenum, worrisome for hemorrhagic duodenitis. Three-coil embolization of the gastroduodenal artery was performed. A small (<2 cm) pseudo­aneurysm anterior to the right common femoral artery resolved with percutaneous thrombin injection. The patient continued to have episodes of GI hemorrhage and required daily transfusions.