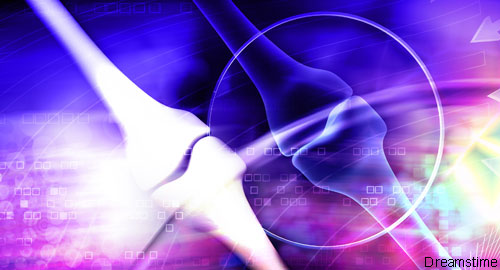 Patients with rheumatoid arthritis (RA) can progress to joint instability, which is preceded by chronic synovitis of peripheral joints and destruction of the cartilage and bone. Although researchers have put a great deal of effort into examining the role of the specific immune response in RA, they are just beginning to focus on the role of the innate immune system. One immunological system of interest is histamine and its four receptors (H1R–H4R). Histamine and its receptors constitute a complex immunoregulatory system that not only bridges both the innate and adaptive immune response, but can also directly affect bone metabolism.
You Might Also Like
Also By This Author
Each histamine receptor has unique expression, function and signal transduction profiles. Example: In addition to their roles in the immune and gastrointestinal systems, H1R and H2R directly influence bone metabolism. H3R, in contrast, is primarily located in the brain, where it helps maintain arousal, modulate circadian rhythms and maintain energy homeostasis. Although H3R may not play a direct role in bone metabolism, its role in the peripheral nervous system likely contributes to the development of a healthy skeletal system. H4R mainly modulates the immune system via its chemotaxic effect on various immune cells. That said, several studies not only indicate that the H4R plays a unique role in inflammatory, autoimmune and allergic diseases, but also suggest that the H4R may be important for the osteoclastogenesis seen in patients with RA.
ADVERTISEMENT
SCROLL TO CONTINUE
New research published online April 26 in Scientific Reports confirms H4R is important for osteoclastogenesis and suggests that blockage of H4R may be effective in preventing bone destruction in RA. Kyoung-Woon Kim of the Catholic University of Korea in Seoul and colleagues began their study by measuring the histamine concentration in the synovial fluid and serum of 40 patients with RA.1 Although patients with RA had higher concentrations of histamine than did controls, the investigators found no correlation between histamine concentration and clinical measures. They then measured the basal expression of H4R in peripheral blood and synovial fluid monocytes from patients with RA, osteoarthritis (OA) and healthy controls. Although H4R expression in peripheral blood monocytes was increased in patients with RA relative to controls, they found no statistical difference in the H4R mRNA in the synovial fluid monocytes taken from patients with RA and patients with OA.
To determine which cytokines induced the expression of H4R on CD14+ monocytes, the investigators incubated peripheral blood and synovial fluid monocytes for 16 hours with various concentrations of histamine and cytokines in the presence or absence of the H4R antagonist JNJ7777120. They found that multiple cytokines stimulated H4R expression, including histamine, IL-6, IL-17, IL-21 and IL-22. Histamine, IL-17 and IL-22 also stimulated RANKL expression in RA monocytes, while the H4R antagonist JNJ7777120 reduced RANKL expression. The researchers concluded that, together, histamine and Th17 cytokines induced CD14+ monocytes to differentiate into osteoclasts via H4R mediated RANKL expression.