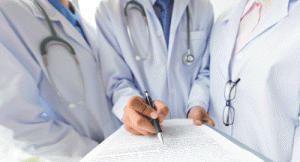 Evidence-based minimum standards for the care of patients with childhood-onset systemic lupus erythematosus (cSLE) are not consistently met in the U.S., Brazil and India. And there is a "lot of room for improvement," according to the lead author of a new study published online in Arthritis Care & Research.
You Might Also Like
Also By This Author
The first-of-its-kind study, "Initial Benchmarking of the Quality of Medical Care of Childhood-Onset Systemic Lupus Erythematosus,"1 reviewed the medical records of 483 patients in seven tertiary pediatric rheumatology centers (four in the U.S., two in Brazil and one in India) to gauge adherence to 25 quality indicators established by the 2013 "International Consensus for Provisions of Quality-Driven Care in Childhood-Onset Systemic Lupus Erythematosus."2
ADVERTISEMENT
SCROLL TO CONTINUE
The results show a wide variance among U.S. centers in how they address lupus nephritis, bone health, vaccinations and transition planning. Access to kidney biopsies was lower in Brazil than in the U.S., and large institutions met standards more often than small centers.
Lead author Rina Mina, MD, a pediatric and adult rheumatologist at the Cincinnati Children's Hospital Medical Center and the University of Cincinnati, says this first round of research provides a bird's-eye view of performance and shines a light on the difficulties of daily practice in the pediatric rheumatology community.
ADVERTISEMENT
SCROLL TO CONTINUE
"Based on the study results, there are several quality indicators that all centers are doing well, such as performing recommended standard laboratory evaluation for children who newly carry the diagnosis of cSLE; initiation of therapy within one month of the diagnosis of proliferative lupus nephritis; prescription of angiotensin converting enzyme inhibitor or angiotensin receptor blockers in patients with >500 mg/day of proteinuria; regular laboratory surveillance for medication; and immunosuppressive medication usage in the setting of major neuropsychiatric systemic lupus erythematosus events," Dr. Mina told The Rheumatologist via email.
Of the 25 quality indicators assessed, 14 (56%) displayed important differences at the U.S. sites.
"The largest variability was noted for quality indicators that address education on cardiovascular risks and calcium/vitamin D supplementation with glucocorticoid use," Dr. Mina says. "In comparing small vs. large centers, there were statistically significant differences in observance of 13 of the 25 quality indicators (13/25=52%) assessed."
ADVERTISEMENT
SCROLL TO CONTINUE