You Might Also Like
Explore This Issue
December 2013
Also By This Author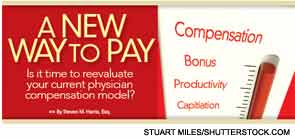 Compensation is becoming a more critical issue for rheumatology practices in evaluating both their current and potential employment opportunities. Ongoing payment reform and consolidation in healthcare is forcing practices to face the reality that they may have to reconsider the way they compensate their physicians.
ADVERTISEMENT
SCROLL TO CONTINUE
Practices risk becoming less profitable and losing their competitive edge if they do not understand and consider all available compensation models. Many new models are already being offered by hospitals that are actively recruiting rheumatologists through direct employment and practice acquisitions. Practices that do not offer attractive compensation models will likely find it difficult to retain their existing physicians, costing the practice real money in terms of lost revenues, higher recruitment fees, increased legal fees, increased training costs, and lost referral sources.
Physician Compensation Models
There are essentially four basic physician compensation models, each with its own pros and cons.
ADVERTISEMENT
SCROLL TO CONTINUE
100% Straight Salary
One of the most common physician compensation methodologies is a 100% straight salary guarantee. Straight salary is easy to administer and is paid in accordance with the practice's regular payroll policy. This methodology, however, can disincentivize entrepreneurship and may indebt the practice if actual revenue is less than what is being paid out. In fact, practices today are finding it increasingly difficult to pay guaranteed salaries in light of decreased reimbursements and higher administrative costs.
Salary Plus Incentive
ADVERTISEMENT
SCROLL TO CONTINUE
In a payment methodology that includes a salary guarantee plus incentive compensation, the rheumatologist is guaranteed a minimum annual base salary paid in accordance with the practice's payroll policies and is also eligible for additional compensation based on the rheumatologist's productivity, performance on quality metrics, or, increasingly, both. Such incentive compensation can be paid on a quarterly or yearly basis, and may be based on either net collections, gross billings, patient encounters, or relative value units (RVUs), a unit of measure that reflects the time, effort intensity, and technical skills required to perform a particular service or procedure. RVUs are classified as either total RVUs or work RVUs, with the latter more commonly used in compensation models. When the incentive compensation is based on production, the incentive compensation only kicks in once the rheumatologist has produced enough to cover his or her minimum base salary. At that point, the methodology often calls for payment to the rheumatologist of a bonus in the amount of a certain percentage of his or her collections above the minimum guaranteed salary.
A significant advantage to this methodology is that it offers security. It also enables rheumatologists to increase their income through performance. On the down side, this methodology may cause minimum work standards to become de facto norms. This methodology also places a large component of income at risk, depends on subjective measurements in apportioning that at-risk portion, and can be complex to design and administer.
Pure Productivity
A pure productivity compensation methodology is sometimes referred to as "eat what you kill." Under this methodology, a rheumatologist is paid a certain percentage of what he or she brings into the practice. The remaining collections are typically paid to the practice in order to cover overhead expenses, such as leases, malpractice insurance, support personnel, equipment, and supplies.
The obvious advantage of this model is that it encourages extra professional effort and seems "just" in a capitalistic economic system. The disadvantages are that it feeds intragroup competition, requires substantial accounting management to assign overhead burden fairly, encourages overutilization, and can even discourage "corporate citizenship," such as practice governance and management, teaching, and other activities not connected with patient visits.
Productivity Plus Capitation Mix
Capitation rewards certain physician behavior, such as appropriate utilization, and encourages physicians to have an interest in appropriate and efficient provision of care. The productivity-plus-capitation-mix methodology recognizes the different revenue streams coming into a practice, rewards physician activity appropriately per stream, and encourages efficiency as physicians move into pure capitation. It is, however, complicated to administer, and the two-tiered practice style it encourages can create a dichotomy within the practice, with differential treatment levels based on patients' payment streams.
In today's competitive environment, any effective compensation formula should also address the following five qualities:
First, it should be economically fair.
Second, it should be comprehensible, especially to the rheumatologists being compensated.
Third, it should not be excessively difficult for management to monitor and administer, and it should be flexible enough to allow for possible future modification.
Fourth, it should be consistent with the philosophy and mission statement of the practice.
And finally, it should stimulate rheumatologists to be effective, with definable financial rewards for behavior and activity the practice needs and wishes to encourage, including encouraging and incentivizing rheumatologists to be more accountable for:
Patient outcomes, including quality of care;
Overall patient satisfaction;
Administrative responsibilities, including electronic medical record implementation and other practice compliance policies;
Physician recruiting, including speaking at conferences;
Serving on committees, both internal (for larger practices) as well as for outside organizations;
Practice marketing efforts, including developing new physician referral sources; and
Mentoring young physicians who are new to the practice.
Overall compensation models should incorporate strategies designed to meet the new patient care accountability standards, retain existing rheumatologists, and stay competitive in the practice's physician recruiting efforts.
Implementing These Changes
Change is difficult and it takes time, especially when it will most likely impact the earnings of rheumatologists in a practice, some positively and some negatively. It is vital to get acceptance from the rheumatologists (both owners and employees) and to communicate that these changes are not being driven by the practice, but by much larger "forces"—namely third-party payers and a consolidating healthcare landscape. It is equally important to reinforce that maintaining the status quo may not allow the practice to remain financially viable and independent.
Additionally, the huge verdicts being handed down for improper compensation arrangements in violation of the Stark Law and the Federal Claims Act (e.g., Tuomey Healthcare for $357 million, Intermountain for $25.5 million, and St. Vincent and Holy Rosary for $3.95 million) and an increasingly aggressive enforcement climate focused on fair market value, commercial reasonableness, and not taking into account the value or volume of referrals, make it important that a healthcare attorney well versed in regulatory compliance matters, including Stark and related ancillary revenue-sharing issues, should also be involved in structuring any physician compensation package.
---
Steven M. Harris, Esq., is a nationally recognized healthcare attorney and a member of the law firm McDonald Hopkins, LLC. He may be reached at [email protected].