Francesco Boin, MD, Is New Director of Cedars-Sinai Division of Rheumatology & Kao Institute Scleroderma Program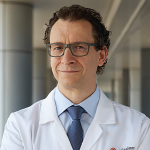 Francesco Boin, MD, an internationally known expert in scleroderma, was simultaneously appointed director of the Division of Rheumatology at Cedars-Sinai, Los Angeles, and director of the Kao Autoimmunity Institute's new scleroderma program in June 2020.
You Might Also Like
Explore This Issue
April 2021
Also By This Author
"This has been an amazing opportunity and came at the right time in my professional trajectory," says Dr. Boin of the dual appointments.
ADVERTISEMENT
SCROLL TO CONTINUE
He brings an impressive history of involvement with scleroderma research, having served as director of the translational research program at Johns Hopkins Scleroderma Center, Baltimore, where he also held a faculty appointment.
After 13 years at Johns Hopkins, Dr. Boin moved to the University of California, San Francisco (UCSF), was appointed Robert L. Kroc Chair in Rheumatic and Connective Tissue Diseases in 2015, established the UCSF Scleroderma Center, and served as its director. That experience—creating a program from the very beginning, gathering resources and putting together a dedicated team—gave him the necessary skillset to take building a new center to a higher level, he says.
ADVERTISEMENT
SCROLL TO CONTINUE
The generosity of the Kao Family Foundation gift to the Kao Autoimmunity Institute in fall 2019 creates the opportunity to enhance a cutting-edge clinical and research infrastructure within the Cedars-Sinai Scleroderma Program, to actively recruit leaders in the field of rheumatic diseases and to become a leading center of excellence on the West Coast.
Dr. Boin's own research has focused on the genetic risk of scleroderma and the biology of immune cells involved in the pathogenesis of this disease. He has been investigating the role of effector T cells in driving pro-inflammatory and pro-fibrotic pathways leading to scleroderma-specific tissue damage.
In partnership with the NIH (NIAMS/NHGRI) and the Johns Hopkins Scleroderma Center, he currently coordinates the Genome Research in African American Scleroderma Patients (GRASP) study, a consortium involving 25 U.S. academic centers established to discover new disease-associated susceptibility genes in African American patients affected by scleroderma using next-generation sequencing platforms. Dr. Boin's overarching goal is to identify novel and reliable tools to investigate the causes of scleroderma, effectively measure disease activity, monitor response to treatments and help predict clinical outcomes in scleroderma patients.
ADVERTISEMENT
SCROLL TO CONTINUE
Thus, the model for the Cedars-Sinai Scleroderma Center is twofold, he says: to emphasize patient-centered care and to accelerate the translational research of rheumatic diseases, finding better therapeutic avenues and reaching for a cure.
"We are excited about building something here that is really transformational," he says.