You Might Also Like
Explore This Issue
June 2014
Also By This Author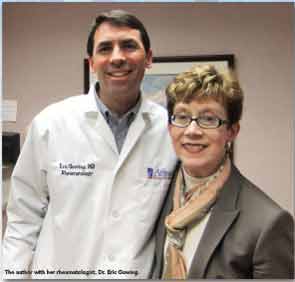 The author with her rheumatologist, Dr. Eric Gowing.
ADVERTISEMENT
SCROLL TO CONTINUE
In summer 1978, I began to experience bilateral heel and ankle pain, along with morning stiffness and severe fatigue. I was a 25-year-old registered nurse at Mercy Medical Center in Oshkosh, Wis. As I made rounds with the doctors and carried their patient charts—yes, nurses did that back then—every step hurt. Results of blood work revealed the presence of a high-titer rheumatoid factor, a positive antinuclear antibody and an elevated erythrocyte sedimentation rate. X-rays of my hands demonstrated demineralization, and both elbow joints showed effusions (see Figure 1).
For the past 36 years, rheumatoid arthritis (RA) has been an integral part of my life and has taught me valuable lessons.
ADVERTISEMENT
SCROLL TO CONTINUE
Lesson #1
The right medication is crucial.
Medication management is the foundation of successful RA treatment. I took 13 enteric-coated aspirin a day for the first year. This was useless; it was like trying to stop the Chicago fire with a wet handkerchief.
ADVERTISEMENT
SCROLL TO CONTINUE
In 1979, I was referred to Madison, Wis., rheumatologist Robert Bonebrake, MD. Dr. Bonebrake recommended I start hydroxycholoroquine (HCQ). Soon, I began to feel amazingly better on this "magic medicine."
After the HCQ stopped working in 1985, I was given gold injections, followed by oral gold.
I couldn't tolerate sulfasalazine, so d-penicillamine was next. This made me feel better, but I lost my ability to taste sugar and salt. Potato chips tasted pretty flat. I continued on the drug until 1992, when my platelet count dropped to 85,000.
I was on azathioprine from 1993 to 2003, when I developed breast cancer.
At this time, the explosion of biologics had ushered in the promise of amazing relief. I began taking etanercept, which made me feel like a new person. I continued on it until 2014, when I began rituximab infusions, as prescribed by Eric Gowing, MD, my current rheumatologist. In addition, I took short courses of prednisone interspersed as bridge therapy throughout my RA treatment, as well as many nonsteroidal antiinflammatory drugs (NSAIDs).
Warnings of side effects accompanied many drugs, but I decided my quality of life was more important than if I lived to be 80 but felt miserable.
Lesson #2
An RA patient can live a meaningful life and have a wonderful family.
I have been blessed with my supportive husband Gary, who is a medical technologist.
Gary has gone with me to almost all of my doctor's appointments. Since 1978, he has drawn my blood from home and kept a journal of every lab result. He is my caregiver after orthopedic surgeries, handling commodes, assisting in the shower and tirelessly pulling on thigh-high compression stockings after my total hip revisions.
I became a mother in 1981 when our daughter, Laura, came into our lives. I had a wonderful pregnancy, and my arthritis symptoms disappeared. To the joy of my obstetrician, I took no medicine.
Many people commented, "You should be pregnant all the time!" I cautiously hoped my arthritis could be gone forever, but six weeks after delivery, bilateral knee pain returned, and I knew it was back. I stopped breast-feeding and restarted my medication.
We adopted our son, John, in 1987. One day when he was 4, I was struggling to open a bottle of laundry detergent. John looked up with his blue eyes and freckled face and said, "Let me do it, Mom. You're too unstrong."
My children have grown into responsible young adults who are sensitive to the needs of others and do not hesitate to offer to help me. Having a mother with RA was actually a blessing.
I also have been able to continue to participate in activities that bring me joy, but with modifications.
I love music, and I play the baritone horn (euphonium). I can no longer carry it long distances, so I ask others to do that for me. My fingers have swan neck deformities and ulnar deviation, but since my horn has only three valves, I can still play beautifully. I also ring hand bells, but I ring only the smaller ones while wearing performance gloves. No one sees my deformed hands.
I had a wonderful pregnancy, & my arthritis symptoms disappeared. I took no medicine, to the joy of my obstetrician.
Lesson #3
Having RA does not exempt patients from other health problems.
I experienced a miscarriage in 1984 at 12 weeks gestation. Little did I know that another loss would occur just six months later. In September 1984, as I bent forward to move our daughter's rocking chair, my vision blurred. A four-vessel arteriogram revealed a blood clot lodged in the distal one-third of the left posterior cerebral artery. This explained my loss of peripheral vision on the right, but the cause of the clot remained a mystery. I was prescribed warfarin, which I have continued to take.
Several years later, the antiphospholipid antibody syndrome was described in the literature. Perhaps this is what caused my pregnancy loss followed by my cerebrovascular accident at the age of 31.
My RA has caused me to undergo 13 successful orthopedic surgeries. These include bilateral total hip arthroplasties, bilateral total hip revisions, a total shoulder arthroplasty, fusions of fingers and toes, bilateral bunionectomies, synovectomies and multiple arthroscopies. Orthopedic surgery is not easy, but the outcome has always been worth the effort.
Cancer has been the most frightening of my diagnoses. I survived ductal invasive breast cancer in 2003, underwent a lumpectomy and endured chemotherapy with cyclophosphamide, methotrexate and 5-fluoruracil, followed by 33 radiation treatments. My radiation oncologist was skeptical that my RA would allow me to complete the radiation protocol, but I proved him wrong. Then, in 2012, my CEA tumor marker continued to rise, along with a 25 lb. unexplained weight gain and edematous lower extremities. My diagnosis was appendiceal cancer, or pseudomyxoma peritonei. Two mucinous tumors, one the size of a cantaloupe and the other a softball, were removed from my abdomen during a debulking surgery. This is a very rare cancer.
Perhaps my immunosuppessive medicines have contributed to my cancers. Because rituximab may have the lowest potential for causing malignancy, Dr. Gowing and I decided to switch to this drug.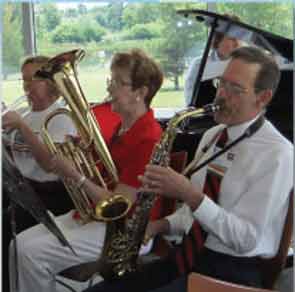 The author playing baritone horn, with her husband Gary on saxophone.
Urticarial vasculitis is another effect of long-term RA, and it began to affect me in 2010. This is being managed with dapsone. Felty's syndrome is also seen in RA, and mine is treated with methotrexate. I suffered two lumbar compression fractures in 2013, despite bisphosphonate therapy, and taking calcium and vitamin D supplements for years. I currently inject teriperatide daily.
I developed a tremor in my left hand in 2006, and I was diagnosed with Parkinson's disease. It's managed with Requip and carbidopa/levodopa and, fortunately, has not progressed.
I have had more than my fair share of health problems in my life. I have managed them by education, acceptance, support, a positive attitude and much prayer.
Final Lesson
Assemble a team of health professionals and follow their advice.
In 1990, Jeanna Owens, MD, became my rheumatologist. Dr. Owens encouraged me to go on our family's trip to Florida, despite not feeling very well. Dr. Owens instructed me to rent a wheelchair at Disney World to save energy. I followed her advice. At the time, our children said, "It's great that you have arthritis, Mom, because with you in a wheelchair, we never have to wait in line!"
Dr. Gowing currently manages several of my diagnoses, and we make our decisions together as a team. I applaud his diagnostic expertise and endless listening skills. He is an amazing rheumatologist.
Many physical and occupational therapists have prescribed and updated my home exercise programs since 1979. They taught me the value of daily exercise, joint protection and adaptive equipment. I could not function as well or know when to pace myself without their invaluable teaching.
My RA has taught me much about life. I believe I am better, and not bitter from the lessons I have learned. I look forward to the years to come, whatever they hold for me. the rheumatologist
---
Sarah Troxell, RN, BSN, was the RN educator and case manager for the Coordinated Rheumatology and Pain Management Programs at Mercy Medical Center in Oshkosh, Wis., until her retirement. She is an emeritus member of the ARHP.