There is also good will spread by these collaborations, says rheumatologist Edward J. Parrish, MD, assistant professor of medicine at Weill Cornell Medical College. "For the United States, we are exporting something that will benefit everyone—we're not exporting guns or Coca-Cola. We are exporting health," says Dr. Parrish, who has taught at Cornell's Qatar campus.
You Might Also Like
Explore This Issue
August 2011
Also By This Author
The host countries also benefit from the partnerships, Dr. Prescott says. The schools help to address physician shortages seen in a number of countries. And, despite criticisms of American education, the standard curriculum used in American schools still is in demand, he adds. "There is a need to educate physicians in their own country. Sometimes the countries ask for these [partnerships]," he says. Such partnerships can lead the schools to attract large conferences, bringing yet more attention to the schools and the area, Dr. Parrish says, citing the Qatar's campus hosting of the Drugs Affecting Lipid Metabolism XVII International Symposium earlier this year.
ADVERTISEMENT
SCROLL TO CONTINUE
Certain countries are looking to establish more infrastructure, Dr. Robin says. For instance, some countries well known for oil production are now building more college campuses, hospitals, and other facilities, yet another reason for the increasing number of global medical school partnerships, he explains.
"I think the benefit is to educate students and the next generation of physicians in what we perceive to be the state of the art in medicine, including rheumatology," says Allan Gelber, MD, associate professor of medicine and director of the Rheumatology Fellowship Program at Johns Hopkins.
ADVERTISEMENT
SCROLL TO CONTINUE
In 2013, Dr. Gelber will assist in teaching second-year students at Perdana University Graduate School of Medicine, which is opening this fall in Malaysia and is the product of a collaboration between Johns Hopkins and a private development company based in Kuala Lumpur. "We're educating them in what we think is state of the art, and this improves knowledge, which leads to improved patient care, earlier intervention, and better outcomes in arthritis," he says.
At the same time, faculty and students from the various countries involved can learn new best practices from each other. "I don't think the welcome mat would be out long if someone said, 'This is the only way to do this,' " Dr. Prescott says. "It's a two-way street for learning."
Here are some details on the international medical school campuses operated by Weill Cornell, Duke, and Johns Hopkins—and the role of rheumatology in each program.
ADVERTISEMENT
SCROLL TO CONTINUE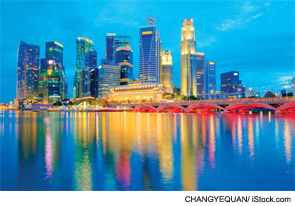 Duke University has an international campus in Singapore.
Weill Cornell Medical College-Qatar
Weill Cornell Medical College in Qatar has been in existence longer than the Duke and Johns Hopkins international campuses, having admitted its first class in 2002. At that time, 25 students made up the inaugural class. By 2007, the school had more than 200 students from 30 countries.