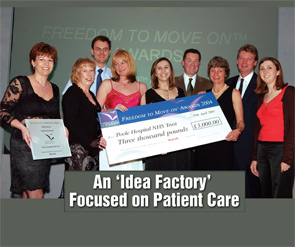 Cornell and colleagues accepting the Freedom to Move On award. Back (left to right): Rob Marshall, former registrar (now a rheumatologist in Bristol); Robert Field, podiatrist; Paul Thompson, rheumatologist. Front (left to right): Trish Cornell; Julia Taylor, research nurse practitioner; Jane SeQueira, physiotherapist; Fouz Rahmeh, rheumatologist; Ann Trehane, rheumatology practitioner; and Sarah Westlake, rheumatologist.
For a person who claims she "fell" into rheumatology, Patricia "Trish" Cornell, BSc, has influenced treatment processes in a remarkably short time. Cornell, the senior rheumatology practitioner at Poole Hospital National Health Service (NHS) Foundation Trust in Dorset, England, joined the rheumatology unit there in 1998. Since that time, she's been instrumental in organizing the outpatient teams that manage the day-to-day care of patients with inflammatory arthritis. She oversees a team composed of six rheumatology practitioners (including both nurses and physiotherapists), a podiatrist, an occupational therapist, and extended-scope physiotherapy practitioners. She has revamped and streamlined the Telephone Advice Line, ensuring patient access and continuity of care, and set up specialty clinics for patients with ankylosing spondylitis (AS).
Cornell presented her work on patient self-management at national and international meetings and worked to advance the role of rheumatology nurse specialists through association with the Royal College of Nursing Rheumatology Forum and the British Health Professionals in Rheumatology. Her department has received numerous awards for excellence, among them the National Rheumatoid Arthritis Society's 2007 Patient in Focus Award for improving communication between healthcare professionals, patients, and their caregivers and relatives.
ADVERTISEMENT
SCROLL TO CONTINUE
Susan M. Oliver, RN, MSc, a nurse consultant in rheumatology and past chair of the Royal College of Nursing Rheumatology Forum, has been a mentor in Cornell's development as a spokesperson for the nursing perspective. "I've visited Trish's unit a number of times," she says. "She has great organizational skills and has made sure it's a strong multiprofessional team that's very, very clear about what they're delivering to patients."
"I've seen her grow and grow in her strategic and political thinking, to make sure that there is a nursing presence at the table," adds Oliver. "We share the same principles when working to develop high-quality nursing—that is, to robustly scrutinize nursing practice and listen to the patient's perspective to ensure that nursing provides the best outcomes for patient care."
ADVERTISEMENT
SCROLL TO CONTINUE
"I think that her landmark achievements center on getting systems in place so that rheumatology practitioners can work alongside the doctors," says Paul Thompson, MD, consultant rheumatologist at Poole Hospital and visiting professor and director of the Center of Postgraduate Medical Research and Education at Bournemouth University, Bourne­mouth, U.K. "Her organizational skills have been fantastic, and setting up a treatment process for patients is quite difficult to do in our conventional National Health Service, which is a bit slow to move."
Audio Extra
Hear Trish Cornell talk about her work refining the Telephone Advice Line at Poole, the development of the Telephone Advice Line Guidance Document, and how nursing has contributed to patient empowerment.
Propitious Meeting
Dr. Thompson vividly recalls his first encounter with Cornell at a private hospital where he was working in addition to his post at Poole Hospital. "She came up to me in the corridor and said, very straightforwardly, as Trish does, 'I'm an orthopedic nurse. I've heard you've got a good set-up at Poole Hospital and you're interested in expanding the role of nurses and allied health professionals. Can I join you?' Well, when somebody says that to you, you think, 'Hello, this looks good, but what's the catch?' "