Specifically, colchicine activates AMPK in macrophages, and its ability to increase and sustain AMPK activity appears to underlie its ability to limit MSU crystal inflammation both in vitro and in vivo. AMPK does this by transducing the multiple antiinflammatory effects of colchicine in macrophages. Moreover, AMPK is able to shift the overall differentiation of macrophages to an M2 phenotype, which is characterized by macrophages that are less inflammatory and, instead, behave more in a clean-up mode.
You Might Also Like
Explore This Issue
February 2015
Also By This Author
ADVERTISEMENT
SCROLL TO CONTINUE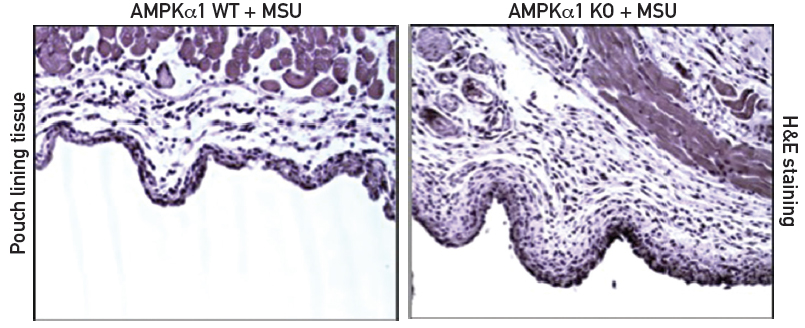 click for large version
Figure 1: Paraffin sections or air pouch tissues with hematoxylin and eosin (H&E) staining reveal increased MSU crystal-induced inflammation in AMPKα1 knockout (KO) mice. Courtesy Robert Terkeltaub, MD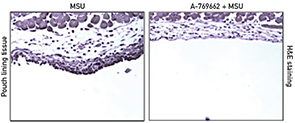 click for large version
Figure 2: A-769662 inhibited MSU crystal-induced inflammatory responses in wild-type mice. Courtesy Robert Terkeltaub, MD
Latest Research on AMPK & Gout
Yun Wang, PhD, a postdoctoral fellow in the Department of Medicine at the University of California in San Diego (UCSD), and colleagues published the results of their investigation of AMPK online Oct. 31 in the Annals of the Rheumatic Diseases.1 The team investigated whether AMPK activation is able to limit MSU crystal-induced inflammation. Specifically, they examined the effects of pharmacological activation of AMPK on MSU crystal-induced inflammatory responses. The investigators focused their efforts on cultured macrophages and then expanded their work to a murine model for gout. They investigated the effect of the highly selective AMPK activator, A-769662, and compared the results with treatment with colchicine. The researchers used Western blot and quantitative RT-PCR to examine phosphorylation (activation) of AMPKα Thr172, NLRP3 mRNA expression, caspase-1 cleavage, and IL-1β maturation. They also measured IL-1β and CXCL1 production via ELISA.
ADVERTISEMENT
SCROLL TO CONTINUE
Wang et al began their investigation with bone marrow-derived macrophages (BMDMs) obtained by flushing the bone marrows derived from 7–8-week-old mice. They found that MSU crystals (verified to be free of lipopolysaccharide) suppressed phosphorylation of AMPKα in these cells. Their results were consistent with previous research that had demonstrated that some inflammatory stimuli inhibit phosphorylation of the α subunit of heterotrimeric AMPK—the subunit that is critical for AMPK activity.
The investigators then turned their attention to AMPKα1 knockout mice. These C57BL/6/129 mice lack one (AMPKα1) of two isoforms of AMPK that are expressed in macrophages. AMPKα1 is the isoform that is predominantly activated in inflammatory cells. As expected, the BMDM cells from knockout mice have decreased expression of total AMPKα when compared to BMDM cells from wild-type mice. The knockout mice are phenotypically normal, but they respond differently than wild-type mice to biological challenges. Specifically, AMPKα1 deficiency significantly enhanced the inflammatory response to MSU crystals both in vitro and in vivo (see Figure 1).