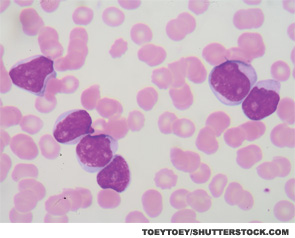 A blood smear is often used as a follow-up test to abnormal results on a complete blood count (CBC) to evaluate the different types of blood cells.
BOSTON—The contributions of Stephen Malawista, MD, to the field of innate inflammation and the proinflammatory functions of phagocytes in rheumatic diseases have inspired the work of many researchers, according to Robert Terkeltaub, MD, who gave the Rheumatology Research Foundation Memorial Lectureship, titled Innate Immunity at the Core of Rheumatic Disease, to honor Dr. Malawista at the ACR/ARHP Annual Meeting in Boston in November 2014.
"He posed interesting questions, and the offshoots of his work are felt today. He was a friend and colleague, and he was inspirational," said Dr. Terkeltaub, professor of medicine at the University of California San Diego and chief of rheumatology at the San Diego Veterans Affairs Medical Center.
Dr. Malawista, now deceased, was chief of rheumatology at Yale School of Medicine for 21 years. He and his team of researchers are credited with uncovering the etiology and pathogenesis of Lyme disease, which pioneered current approaches to better understanding of how microbial organisms play a role in other arthropathies, such as rheumatoid arthritis. Their research, published in the mid- to late 1970s, reported on an epidemic form of arthritis that was clustered in eastern Connecticut and that was believed to be caused by a previously unrecognized clinical entity.1 Subsequent research, published in 1978, reported that erythema chronicum migrans often develops in early Lyme disease and that the disorder was triggered by innate and adaptive immune responses to spirochaetes transmitted by ticks.2