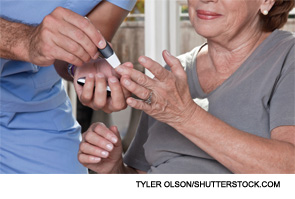 Patients with RA and diabetes may benefit for both conditions from a TNF antagonist.
The metabolic risk factors that together earn the title metabolic syndrome turn out to not only raise the risk for metabolic disorders, such as diabetes, but also increase the risk for traditional immunological disorders, such as rheumatoid arthritis (RA), gout, psoriasis and Crohn's disease. These conditions all appear to be driven by inflammatory processes that are also associated with diabetes. Moreover, some of these immunological diseases appear to be at the end of molecular pathways that also lead to metabolic disorders. All of this prompts the question: Is it time to start treating diabetes with the same types of drugs that we use to treat immunological disorders?
Multiple antiinflammatory drugs are under development or are already approved for the treatment of many diabetes-associated immunological conditions. Is it possible to repurpose these drugs for the treatment of diabetes itself? Alternatively, if diabetes is reconceived as an inflammatory disease, will new drug targets be revealed?
Marc Y. Donath, MD, of University Hospital in Basel, Switzerland, believes so. He recently published a review article describing potential treatment strategies that target inflammation in patients with type 2 diabetes.1 In his article, he describes the rationale for an immunomodulatory approach to the treatment of type 2 diabetes. He also surveys the single molecule targets that have thus far been identified for drug discovery and describes what could be expected when they are prescribed to patients with diabetes. He goes on to paint a picture of a future with drugs that act on an underlying dysfunctional pathway, normalizing the immune response and improving a patient's health without specifically targeting a disease.