You Might Also Like
Explore This Issue
May 2013
Also By This Author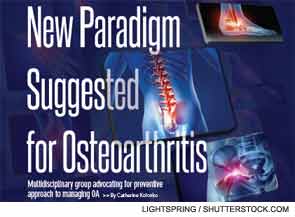 A group of professionals who study and treat osteoarthritis want to adopt a new treatment paradigm and change the pervasive perception that the disease is an inevitable consequence of old age.
ADVERTISEMENT
SCROLL TO CONTINUE
Just the mention of diabetes and heart disease calls to mind frequent public discussion and media coverage about risk factors, lifestyle preventions, and healthcare models; meanwhile, osteoarthritis (OA) seldom gets noticed, say members of the Chronic Osteoarthritis Management Initiative (COAMI). The work group met in 2012 to assess current practice in OA management.
Recent developments in understanding the pathology and management of OA should be reflected in the way we treat and manage the disease, says Maura Iversen, PT, DPT, SD, MPH, professor and chair of the department of physical therapy at Northeastern University in Boston, associate editor of The Rheumatologist, and a work group participant.
ADVERTISEMENT
SCROLL TO CONTINUE
"The COAMI group is striving to implement a new model of care much like the diabetes model where you walk into the doctor's office and are screened for the disease, hopefully to identify who is at risk before they develop symptoms or help those with early disease," says Dr. Iversen.
If people at risk for developing OA could be identified in a similar way, convincing them to increase physical activity and drop excess pounds could mean preventing or delaying progression of the disease, says Dr. Iversen.
Just exactly why OA lacks the media status of other chronic conditions is debatable, but one theory is that patients don't die from it like they do from AIDS or heart attacks. Still, the disease impact is far reaching.
ADVERTISEMENT
SCROLL TO CONTINUE
Osteoarthritis affects an estimated 27 million Americans, more than 10% of the U.S. adult population. Though it is the most common form of arthritis and a leading cause of disability in the United States, OA interventions tend to start later in the disease process than those of other chronic conditions, according to the COAMI report, which summarizes a call to action for a new approach to the disease.1
The global initiative, a spinoff from the United States Bone and Joint Initiative, brought together medical professionals from various countries and included rheumatologists, osteopathic and primary care physicians, orthopedic nurses and surgeons, and specialists in rehabilitation, sports medicine, physical therapy, and athletic training.
The shift in approach to an international campaign is designed to enable people across the globe to get the word out about OA, particularly how important it is for adults to be screened for it; this is a major transition in practice management, says Dr. Iversen.