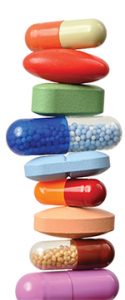 NEW YORK (Reuters Health)—Nintedanib dramatically slows lung deterioration in patients with progressive fibrosing interstitial lung diseases, according to a new randomized study.1
Nintedanib has already been shown to be effective against idiopathic pulmonary fibrosis (IPF). The new trial, funded by the manufacturer, Boehringer Ingelheim, and presented t the European Respiratory Society International Congress 2019 in Madrid, was designed to assess its effectiveness against a broad range of fibrosing lung diseases in 663 volunteers.
ADVERTISEMENT
SCROLL TO CONTINUE
After a year of treatment, nintedanib patients had an adjusted rate of decline of 80.8 mL in their forced vital capacity (FVC) compared with a decline of 187.8 mL with placebo (P<0.001).
In patients with an unusual interstitial pneumonia (UIP) like fibrotic pattern, the FVC drop was 82.9 mL vs. 211.1 ml with placebo (P<0.001).
ADVERTISEMENT
SCROLL TO CONTINUE
The researchers' "apparent success in this trial suggests a final common pathway to fibrosis," Hilary Goldberg, MD, of Brigham and Women's Hospital, Boston, writes in an editorial in the New England Journal of Medicine, online Sept. 29.2
However, diarrhea was nearly three times more common in the nintedanib group, with rates of 66.9% with the drug and 23.0% with placebo.
And abnormalities in liver-function testing were seven times more common with the drug, with rates of 1.8% for placebo and 13.0% for nintedanib, which is sold under the brand name Ofev.
ADVERTISEMENT
SCROLL TO CONTINUE
Additionally, the measures of quality of life used by the researchers did not show a meaningful difference between the two groups.
The INBUILD study was done at 153 sites in 15 countries. The research team enrolled patients with a progressive fibrotic disease other than IPF. People being treated with azathioprine, mycophenolate mofetil, cyclosporine, tacrolimus, cyclophosphamide, rituximab or more than 20 mg per day of glucocorticoids were excluded.
Patients who had troublesome side effects could suspend their therapy or get a lower dose of 100 mg twice daily instead of the usual 150 mg dose.
The company analyzed the data.
The researchers separately assessed patients with UIP, because of previous research suggesting that fibrosis might develop faster in that group. Sixty two percent fell into that category.
The rate of death or acute exacerbation of interstitial lung disease at one year was 7.8% with nintedanib and 9.7% with placebo, a non-significant difference.
The overall rates of adverse events and serious adverse events were comparable in the two groups. However, 19.6% in the nintedanib group discontinued their treatment compared with 10.3% who received placebo.