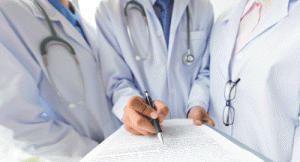 Most patients with gout understand the basics of their condition, but only a minority recognizes the importance of achieving and maintaining their serum urate (SU) goals, according to an article accepted for publication in Arthritis Care & Research.1
You Might Also Like
Also By This Author
Investigators asked six gout-specific questions of 612 U.S. Department of Veterans Affairs (VA) patients who were prescribed allopurinol in the past year. Only 14% of respondents knew their SU goal, a surprisingly low figure according to Ted Mikuls, MD, MSPH, Division of Rheumatology at University of Nebraska Medical Center and VA Medical Center in Omaha, and senior author of "Target Serum Urate: Do Gout Patients Know Their Goal?."
ADVERTISEMENT
SCROLL TO CONTINUE
"Knowledge for the other five questions was quite good. The lowest correct response rate was 62% and highest was 90%," Dr. Mikuls says. "The majority of patients knew these other important elements of their disease … but they had very little knowledge of what the SU target was for a therapy (allopurinol) they already were on."
Digging deeper into the study results, SU goal knowledge was associated with self-reported global health status, but not with self-reported health-related quality of life or gout-specific health status. Dr. Mikuls says the study shines a light on a gap in patient education.
ADVERTISEMENT
SCROLL TO CONTINUE
"You need a well-informed patient. You need a proactive healthcare team. Both are key elements to doing things optimally," he says. "We have gaps, not only in patient knowledge, but also in provider practices, and that has been shown in the literature. So it's not going to be an easy problem to tackle. But I think this study shows that, on the patient end, this is a gap we need to begin filling if we are going to do this better."
Dr. Mikuls recommends starting with the ACR guidelines, which suggest providers impart such knowledge to patients with gout.
"I think the physician taking the time to explain why different therapies are used and the goals of those different therapies are really key to successful gout management," Dr. Mikuls says. "I think if patients understand that and are engaged in that, it can make a big difference."
ADVERTISEMENT
SCROLL TO CONTINUE