You Might Also Like
Explore This Issue
September 2014
Also By This Author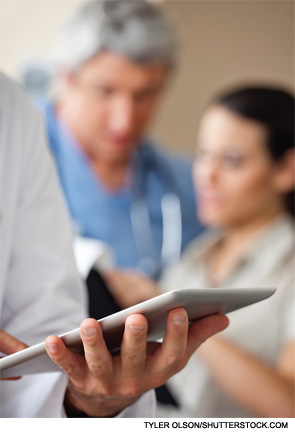 PHRs save prep time.
Rheumatologists need to know a wealth of information to provide the best care to patients. Instead of tracking down volumes of reports and lab results from multiple providers, the rheumatology patient of the future may opt to use personal health records (PHRs).
ADVERTISEMENT
SCROLL TO CONTINUE
"A personal health record makes the patient an active part of the care team," says Julie Wolter, MA, RHIA, FAHIMA, interim director, Program in Health Sciences, Doisy College of Health Sciences, St. Louis University, St. Louis.
With a PHR—also sometimes called a PMR or personal medical record—users can collect, track and share information about their health or the health of someone in their care, Wolter says. A PHR could be a simple binder in which the individual places copies of medication information, diagnosis-related images, lab work results, history and physical reports. Or the information could be part of a sophisticated software program or an app for a smartphone or tablet. For example, a $1.99 PHR app called Raphael PMR from STARx Technical Corporation allows patients to document important health information and keep track of vital stats, such as daily calorie counts, blood pressure results and blood sugar measurements, says app developer Leonard Bielory, MD, professor, Rutgers University, and attending, Department of Medicine, Robert Wood Johnson University Hospital, New Brunswick, N.J.
ADVERTISEMENT
SCROLL TO CONTINUE
PHR apps and software programs allow users to store photos that may be helpful for rheumatologists to see, such as photos of joint distortion for rheumatoid arthritis patients, Dr. Bielory says. His app also has a medication reminder function that rheumatology patients might use for a daily regimen or monthly biologic infusions, as well as the ability to collect other complementary and alternative treatments, such as herbal supplements. The Raphael is available on iPads and is under development for use on the iPhone.
Rheumatology patients could use their PHR to write down what exacerbates their symptoms so they can try to avoid activities that make them feel worse.
Electronic health records (EHRs) and patient portals as required by the federal government's meaningful use program also facilitate patient access to their personal health information, says rheumatologist Elana Oberstein, MD, MPH, medical director, EMA Rheumatology, Modernizing Medicine, Boca Raton, Fla.
ADVERTISEMENT
SCROLL TO CONTINUE
The Benefits of PHRs
How can PHRs benefit rheumatologists and their patients?
"The average rheumatology patient has a complex clinical history," Dr. Oberstein says. He says patients frequently don't bring reports and lab results to appointments, or other doctors' offices might not fax or e-mail those reports in time for appointments. In turn, office staff members frequently have to chase down that information. With health information in one central location that rheumatologists can easily review, PHRs save prep time.