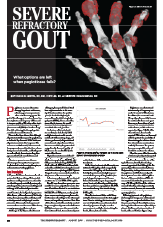 You Might Also Like
Explore This Issue
October 2016
Also By This Author
We read the case report by Dr. Diana Girnita and colleagues ("Severe Refractory Gout: What options are left when pegloticase fails?" The Rheumatologist, August 2016) with interest. A case is reported of a subject with 20 years of chronic refractory gout who failed to respond to pegloticase therapy, and the potential roles of anti-drug antibodies or genetics are discussed. We would like to point out another possible—and we believe more likely—explanation for the findings in this case.
ADVERTISEMENT
SCROLL TO CONTINUE
As opposed to the claim of Dr. Girnita that "all patients given pegloticase initially had significant decreases in their PUA," a review of the database from the randomized clinical trials of pegloticase in chronic refractory gout indicates that two of the 85 subjects (2.4%) receiving 8 mg of pegloticase every two weeks failed to reduce their uric acid levels significantly two weeks after initial treatment. Following subsequent infusions, these subjects also had no significant lowering of their uric acid levels and were categorized as nonresponders. These results indicate that a small fraction of subjects fail to respond to pegloticase. Dr. Girnita suggests this might be related to the development of anti-drug antibodies as we previously reported1 or the possibility of a role for genetic alterations of uric acid transporters. However, a more detailed analysis of these two subjects suggests a different interpretation.
Although neither of these subjects exhibited significant urate lowering two weeks post infusion, each manifest very significant lowering of plasma uric acid 24 hours post infusion (1.03 mg/dL and 1.95 mg/dL, respectively). Moreover, each exhibited a quite low peak pegloticase level after the initial infusion (0.6 and 0.9 ug/mL), whereas the mean peak level in pegloticase treated subjects was 1.4+/-0.1 ug/mL.1 Because the mean terminal half-life of pegloticase is 214 hours (8.9 days), it's not surprising that these subjects would have very little pegloticase present two weeks after the infusion (0 ug/mL, 0 ug/mL, respectively) and, therefore, minimal urate lowering activity. The explanation of the altered pharmacokinetics in these two subjects is not certain, but weight and related expanded volume of distribution could have contributed because both subjects were quite large, weighing 137 kg (BMI 38.9) and 109 kg (BMI 37.7), respectively. We were not told of the weight or BMI of the subject in the Girnita report. It is unlikely that pre-formed anti-drug antibodies played a role because they were not detected in either subject before treatment. It is possible, however, that the early development of anti-drug antibodies played a role in one subject because anti-pegloticase antibodies at a titer of 1:2430 were detected in this subject two weeks after the first infusion.