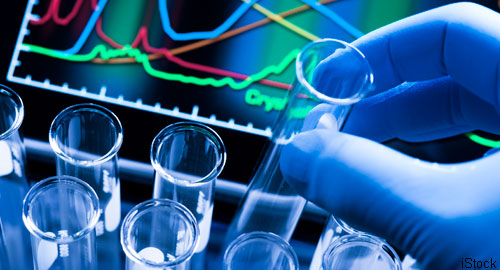 T cell-derived granulocyte colony-stimulating factor (GM-CSF) appears to play a pathogenic role in murine and human inflammatory diseases. Specifically, researchers have identified innate lymphoid cells (ILC) in the joints of patients with
spondyloarthritis
, which has led them to hypothesize that ILC may be driving pathology of spondyloarthritis via the production of GM-CSF. New data suggest that this hypothesis is indeed the case, and that GM-CSF production induces the expression of
GPR65
, revealing both GM-CSF and GPR65 as potential therapeutic targets for spondyloarthritis.
M.H. Al-Mossawi, BMBCh, MRCP, DPhil, a clinical lecturer at the University of Oxford in the U.K., and colleagues published their findings in November 2017 in Nature Communications.1 They began their research by performing intracellular cytokine staining of ex vivo peripheral blood mononuclear cells (PBMCs) from 38 patients with axial spondyloarthritis. The researchers found that the percentage of GM-CSF+ CD4 and CD8 T cells in these patients was significantly higher than that in patients with rheumatoid arthritis and healthy controls.
Also By This Author
The investigators then calculated the percentage of cells that produced GM-CSF with IL-17A and independently of IL-17A. "In this study, we observed GM-CSF production both independently and in combination with Th17 subsets," they write. "Importantly, we here show that the percentage of IL-17A+GM-CSF+ double positive cells is greatly increased in the peripheral blood of patients with spondyloarthritis, with further increases in the ex vivo synovial fluid."
ADVERTISEMENT
SCROLL TO CONTINUE
The researchers next studied the synovial fluid mononuclear cells (SFMC) found in the inflamed joints of five patients with peripheral spondyloarthritis. They found that inflamed joints had increased numbers of lineage-negative, IL-7R-positive type 3 innate lymphoid cells (ILC3).
"We here show that human spondyloarthritis is characterized by a program of lymphoid GM-CSF production in multiple compartments, including CD4 and CD8 T cells, γδ and [ILC]," write the authors in their discussion. "This overlaps with an expansion of 'type 17' cytokine production previously reported for CD49 and γδ20 cells and confirmed by our data. Notably in spondyloarthritis, GM-CSF production is increased both independently of, and in combination with, IL-17A and IFN-γ."
ADVERTISEMENT
SCROLL TO CONTINUE
The results suggest to the investigators that the GM-CSF+CD4+ cells constitute a distinct functional subset, a conclusion that prompted them to further analyze the cells using flow cytometry, CyTOF and gene expression data. They found that the GM-CSF+ T cells had a distinct phenotype and transcriptional profile, which led them to ask if any of the genes selectively expressed in these GM-CSF+ cells have the potential to be pathogenic.