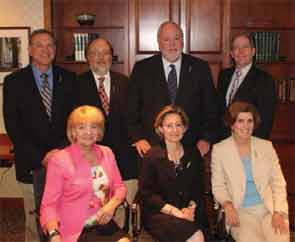 The ACR Executive Committee. Back row, left to right: E. William St.Clair, MD, David Daikh, MD, PhD, Joseph Flood, MD, and David Karp, MD, PhD. Front row, left to right: Jan Richardson, PT, PhD, OCS, Audrey Uknis, MD, and Joan Von Feldt, MD, MSEd.

Dr. Uknis
As I sat down to write my final column as your president, I reflected on the past year—the work that we have done, the plans that we have made, and the seeds that we have sewn. I now have a deeper appreciation for the enormous scope of work that the capable, creative staff and the many hundreds of passionate ACR, ARHP, and Rheumatology Research Foundation volunteers are engaged in each year—and that scope continues to grow. We often wonder if the external pressures on the field will overwhelm us, or if our young colleagues will have the passion and commitment to write the next chapter in our profession—to continue to write the history of our great College. The recent past has been dotted with complex issues and uncertain solutions, and I sometimes hear senior colleagues discouraging young people who are considering a career in medicine. Still, I find myself encouraged by the enormous progress we have made as a united voice to advance rheumatology!
There is safety, comfort, and even power in numbers. When we brainstorm on our list serve, in our practices, and at meetings to try to find possible solutions to our challenges, it is reassuring to know that we are not alone in one crisis or another, and that help may be on the way. Through all of the uncertainty, and more than occasional frustration, I am still left with the feeling that there is no greater calling. At the end of the day, our real impact is on our patients' health and quality of life. As Martin Luther King, Jr. said, "The ultimate measure of a man is not where he stands in moments of comfort and convenience, but where he stands at times of challenge and controversy." I'd like to use my final column to celebrate some of the strides we've made against the challenges we face every day, and the people who drive our success, now and for the future.
Shining Accomplishments
Strategic Planning: Our strategic planning (SP) effort has set a course that will allow us to face our most complex challenges head on. Sharad Lakhanpal, MD, and William Harvey, MD, led an energetic, forward-thinking SP Task Force representing the full spectrum of our membership. The survey of the membership that created the core of this planning process sent a loud, clear message that issues related to the changing landscape of payment reform weigh heavily on the minds of all of our members. One bold new initiative has emerged, thanks to collaborative brainstorming efforts of our Committee on Rheumatologic Care and Quality of Care Committee (QOC) chairs, Charles King II, MD, and Kenneth Saag, MD, MSc, respectively: the multidisciplinary Council on Healthcare Economics (CHEC). Under the direction of Neal Birnbaum, MD, the CHEC has been charged with helping us navigate evolving payment reform, hopefully leading to unique tools to optimize rheumatology practice efficiency, and ultimately helping us improve the quality of care that we provide for all of our patients. Representatives from key committees will gather in this council to share their unique perspectives to arrive at collaborative, comprehensive solutions.