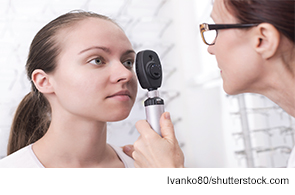 A 30-year-old woman with lupus complained of right eye protrusion and pain.
Presentation
A 30-year-old female patient with systemic lupus erythematosus (SLE) was admitted to the hospital because of a three-day history of protrusion of her right eye and mild right eye pain. There were no other visual complaints. She described polyarthralgia and fatigue. She was six months postpartum, and her pregnancy was without any complication.
She had been diagnosed with lupus three years earlier, and her condition had been well controlled with prednisone and hydroxychloroquine. The patient had stopped taking prednisone following the delivery of her baby.
ADVERTISEMENT
SCROLL TO CONTINUE
The physical examination revealed the patient's temperature was 36.4°C (97.6°F), blood pressure was 130/80 mmHg, pulse rate was
85/min and respiration rate was 18/min. The eye examination showed right eye proptosis, and, apart from slight limitation of upward gaze, there was no limitation of eye movement. The small joints of both hands and her left knee were tender and swollen, and there was trace bilateral ankle edema. There was no skin rash or mouth ulcers. The remainder of the examination was normal.
ADVERTISEMENT
SCROLL TO CONTINUE
The erythrocyte sedimentation rate (ESR) was 90 mm/hr. The hemoglobin was 12 g/dL, total white cell count was 3,500/mm3 and the platelet count was 252,000/mm3. Urine analysis disclosed 2+ protein; 1+ blood; 2–3 leukocytes, 3–5 erythro­cytes/high-power field. Urine protein-creatinine ratio was 1.2 mg/dL, albumin was 3.1 g/dL, and the liver enzymes were normal. Serology tests revealed a positive antinuclear antibody (titer of 1:640) and double-stranded DNA 130 IU/mlL (normal <25 IU/mL). The serum anticardiolipin IgM, IgG and lupus anticoagulant were all negative. Serum complement (C3 and C4) levels were decreased. C3 was 65 mg/dL (normal 88–206 mg/dL), and the C4 was 10 mg/dL (normal range 13–75 mg/dL). Blood cultures and thyroid function tests were normal.
A renal biopsy revealed World Health Organization class III lupus nephritis.
A contrast-enhanced computed tomographic (CT) scan of her orbits was consistent with bilateral orbital pseudotumor with more prominent changes on the right (see Figure 1, above). Proptosis due to pseudo-orbital tumor was considered a part of a lupus flare, and pulse steroids in the form of intravenous methylprednisolone (1 gm) were given daily for three days, followed by high-dose oral prednisone at 1 mg/kg/day.
ADVERTISEMENT
SCROLL TO CONTINUE
There was dramatic improvement of the eye swelling, arthralgias, leukopenia and proteinuria. The patient has been in remission with a treatment regimen including mycophenolate mofetil (2 gm/day), hydroxychloroquine (400 mg/day) and low-dose prednisone (10 mg/day).