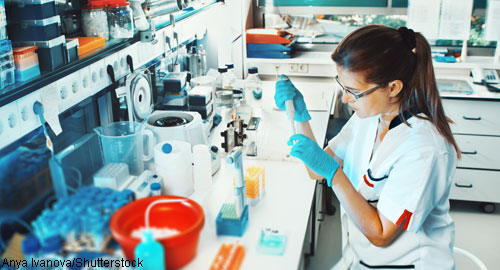 WASHINGTON, D.C.—Researchers at the 2016 ACR/ARHP Annual Meeting discussed how they are exploring the immune system in search of groundwork for new rheumatoid arthritis (RA) treatments.
Also By This Author
The new avenues, supported by the Rheumatology Research Foundation, involve T cell adhesion, new understanding of the role of macrophages and insights into the way IgG glycans function.
ADVERTISEMENT
SCROLL TO CONTINUE
T Cell Adhesion
In one line of research, Adam Mor, MD, PhD, assistant professor of medicine and pathology at New York University, said his lab was seeking to refine therapies that focus on T cell adhesion, a potentially better way of treating inflammation than methotrexate or biologics, which "tend to remove the T cells from the body or kill them," meaning patients are immunosuppressed.
"Why can't we just not kill those T cells, not mess with the subpopulation, just remove them [and] prevent them from getting to the joints?" he asked.
ADVERTISEMENT
SCROLL TO CONTINUE
A monoclonal antibody targeting lymphocyte function-associated antigen 1 (LFA-1), a mediator of T cell adhesion, was introduced in 2006 and produced a potent anti-inflammatory effect, but cases of JC virus, which leads to the deadly brain infection PML, were soon observed in patients. The drug was removed from the market.
Dr. Mor's lab looked at targeting just one of the two types of T cell adhesion rather than relying on global adhesion. Through a series of experiments, the researchers eventually focused on the phospholipase C epsilon 1 (PLC-e-1) gene. In the absence of this gene, they found, there was no activation of the Rap1 protein, a promoter of T cell adhesion.1 This effect was seen in only one type of adhesion.
Researchers have also found that, in animal models, arthritis scores were lower in the absence of PLC-e-1, "suggesting that this enzyme is required for migration of T cells" to the joint.
ADVERTISEMENT
SCROLL TO CONTINUE
"The next step, of course, is to look for drugs that can target PLC-e-1," Dr. Mor said. His lab is now working on a functional screen in search of small molecules that can do just that.
Researchers believe, he said, that this potential therapy could interrupt T cell adhesion without the risk of JC virus seen with LFA-1 treatment.
"We believe that if you inhibit PLC-epsilon, you're not going to do anything to the T cell–APC (antigen presenting cell) interaction, so most of the problems with T cells are going to be fine," Dr. Mor said. "The only thing is they won't be able to go to the site of inflammation. More than that, the intervention would be reversible. It's going to be a small molecule that we can use while [the patient has] inflammation. It's not going to be a maintenance treatment. And that was different from the LFA-1 antibody."