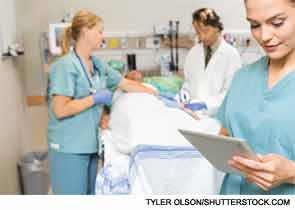 The RN research coordinator ensured that the treating surgeon was aware of the trial and that the patient complied with the surgery instructions and study guidelines to ensure safety.
ADVERTISEMENT
SCROLL TO CONTINUE
Whether in private practice, group practice, or the academic medical setting, many rheumatologists participate in industry and investigator initiated clinical trials. Clinical trials are essential to the development of new treatments and involve numerous regulations and guidelines, in addition to standard practices. Failure to follow these regulations can lead to unwanted costs, audits from such regulatory agencies as the Food and Drug Administration (FDA), and the potential shutdown of a clinical research program. This article will demonstrate how the involvement of a registered nurse (RN) research coordinator can prevent deviations from or interruptions to your clinical trial, as well as enhance patient care.
Following Regulations and Guidelines
RNs follow regulations as part of regular clinical nursing practice via the Nurse Practice Act. Each state's Nursing Practice Act provides guidance to nursing in the same way that clinical research is guided by FDA guidelines, the Code of Federal Regulations, the International Code of Harmonization, and, when applicable, foreign regulatory bodies. RNs are able to follow all of these guidelines in parallel, making them valuable research coordinators with a great understanding of the serious nature of practice rules and regulations, whether those rules relate to nursing or clinical research.
ADVERTISEMENT
SCROLL TO CONTINUE
Superior Patient Care – A Case Study
A patient willingly agrees to participate in a clinical research trial. The patient signs a consent form agreeing to all legal ramifications and explanations, as well as their rights and responsibilities, but what comes next? Who is responsible, and who makes it all come together? Ultimately, the primary investigator as described in the Code of Federal Regulations 21 CFR 50.3 (25) (d) is the leader responsible for the conduct of research at a clinical site. However, primary and subinvestigators rely on the RN research coordinators to keep trials focused and organized to ensure patient safety and compliance. RNs are the comprehensive eyes and ears of our trials.
An example of the benefit of the RN research coordinator is described in the following case study:
Mr. Smith had osteoarthritis (OA) of his hip to the degree that he was having difficulty caring for himself and couldn't work. He agreed to enroll in a clinical trial comparing oral nonsteroidal antiinflammatory drugs (NSAIDs) for the treatment of OA.