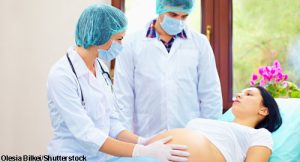 ACR Convergence 2020—Although the reproductive health guideline published by the ACR in 2020 is useful when thinking about medication safety and the risks associated with certain conditions related to reproductive health, Courtney Wells, PhD, MPH, LGSW, of the University of Wisconsin, River Falls, pointed out that providers must also address the psychosocial aspect of care in the decision-making process for women when addressing their reproductive health needs.1
Also By This Author
"Human behavior is strongly affected by emotional and social contexts, and healthcare providers should also take these factors into consideration when helping patients make reproductive health decisions," she said.
ADVERTISEMENT
SCROLL TO CONTINUE
Speaking during a session titled Reproductive Health: Meet Women's Needs, Dr. Wells opened with the example of a rheumatologist telling a patient it is safe to take a medication for a rheumatologic condition while pregnant without considering that her reluctance may be due concern over side effects that may harm her or her baby.
"If a rheumatology provider is aware of potential psychosocial factors at play and engages the patient in a discussion about their concerns, the patient may be more likely to trust the provider and ultimately may have better management of their rheumatic condition during pregnancy," she said.
ADVERTISEMENT
SCROLL TO CONTINUE
The Study
To better understand the psychosocial aspects of reproductive health, Dr. Wells, along with co-presenter Kristine Carandang, PhD, OTR/L, of the University of California, San Diego, are conducting a qualitative secondary analysis of data from three previous studies.
The analysis, which includes 40 pregnant women aged 18–35 years with different rheumatologic conditions (e.g., rheumatoid arthritis, lupus, scleroderma, psoriatic, ankylosing spondylitis, juvenile rheumatoid arthritis/juvenile idiopathic arthritis, etc.), focuses on exploring the key challenges faced by these women and the ways in which they overcame the challenges.
Preliminary findings revealed physical health and psychosocial challenges reported by study participants (see Table 1, below). Dr. Wells underscored that the findings suggest psychosocial dimensions of reproductive health seem to be just as important as the physical dimensions. "Decision making and family planning are woven into the patient's larger illness narrative," she said. "It's more than figuring out if a medication is safe or not."
ADVERTISEMENT
SCROLL TO CONTINUE
Table 1: Preliminary Findings: Challenges Reported by Pregnant Women with Rheumatologic Conditions
Physical Health

Fluctuations in disease
Pain and stiffness
Functional limitations
Medication side effects
Weight management
Comorbidities
Fertility/miscarriage

Psychosocial

Decision-making
Uncertainty and fear
Anxiety and depression
Grief
Guilt
Relationships
Shame
Preliminary results also show patients relied on six main strengths: planning and adaptation, disease acceptance, self-care, meaningful activities, self-advocacy and persistence. For support, patients reported reliance on social support, patient-centered providers, patient communities, supportive work and financial resources.