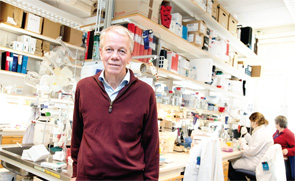 In spring 2004, Professor Lars Klareskog, MD, PhD, head of rheumatology at Karolinska Institutet, arrived in New York to begin a planned collaboration with Peter K. Gregersen, MD, principal investigator of the North American Rheumatoid Arthritis Consortium (NARAC) and director of the Robert S. Boas Center for Genomics and Human Genetics, North Shore LIJ Institute in Manhasset, N.Y.
Dr. Gregersen recalls Dr. Klareskog's arrival as a "very dramatic event." By the early 2000s, the NARAC's efforts to map RA disease genes had yielded modest results, but it had become clear that more substantial data sets of gene markers were needed. Dr. Gregersen and Dr. Klareskog had discussed the opportunities of doing large-scale genetic studies and had established "a clear understanding that we were both on the same page," Dr. Gregersen recalls. Their understanding was dramatically demonstrated upon Dr. Klareskog's arrival. Fellow passengers could not have guessed that the tall, lanky doctor getting off the plane from Stockholm carried in his bag the DNA data from more than 2,000 people whose information (and consent to the study) was part of the Swedish Epidemiological Investigation of Rheumatoid Arthritis (EIRA) collections. The event points to Dr. Klareskog's vision of "how one should do research and what kind of collaborations you need," says Dr. Gregersen.
That union of U.S. and Swedish RA data sets has yielded important advances in our understanding of the genetic and environmental factors in the age of onset of RA. In May 2013, Drs. Gregersen and Klareskog, along with Robert J. Winchester, MD, professor of pediatrics, medicine and pathology in the Division of Rheumatology at Columbia University's Department of Medicine, were awarded the Crafoord Prize in Polyarthritis, given by the Royal Swedish Academy of Sciences.
The prestigious prize is one of many Dr. Klareskog has earned in his multifaceted career as a scientist. He initially made major contributions with his first purification of the human MHC class II molecules,1 followed by the description of MHC class II-dependent cell activation as a pathogenic principle in rheumatoid arthritis.2 His work expanded from there; he was active in the development of collagen arthritis and simple adjuvant arthritis disease models in rodents. And, as already noted, he has also been in the forefront of linking genetics and environmental factors in RA.
From Mathematics to Molecular Domains
Dr. Klareskog's career began not in the life sciences, but in mathematics. After three years of study, however, he determined that, while mathematics was "fascinating," it did not hold interest for him as a possible lifelong career. Personal experiences and discussions with friends at the University of Uppsala pointed the way to medicine. During the early years of his medical studies, he was involved with public and international health, an interest he has pursued over his career, and in the end combined with genetics and molecular immunology. In these early days, he also edited a radical magazine, MOTPOL. That experience with editorial and political argumentation, he says, later proved beneficial as he began to take leadership roles in scientific organizations.