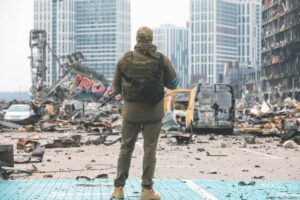 In the early days of summer, soon after U.S. doctors arrived in Ukraine on a medical mission, explosions shattered the quiet of the night. Some members of the team heard it; others slept through it—tired from the long journey into Lviv. The war with Russia has passed the one-year mark, and Ukraine perseveres.
Echoes of War & City Life
The explosions, apparently resulting from a drone attack elsewhere in the city, hint at the proximity to danger the visiting doctors experienced during their mission. They also reflect the threat many Ukrainians face daily in a country at war.
Yet life goes on, with people coming and going to work or gathering in the public square, where a concert brings moments of joy and normalcy to city residents and visitors. Sadness looms in a nearby cemetery, with the frequent burials of individuals lost to the war—life and death in juxtaposition.
"It's really hard to see the families suffering," says Paula Rackoff, MD, a rheumatologist and clinical associate professor at NYU Grossman School of Medicine, New York. Dr. Rackoff led the most recent mission, sponsored by Israeli aid organization One Heart, on her third visit to the region since Russia invaded Ukraine in February 2022.
"For me, it's different from the first two times I came, which was a year ago, mostly because so many people have died," says Dr. Rackoff. "We went to the cemetery today, and there were a little over 400 men buried."
Patients and healthcare workers met Dr. Rackoff and members of the medical mission team with a warm welcome and appreciation for their efforts. About 200 patients were seen during the 10-day mission.
"People are both grateful and surprised that doctors—and we have non-doctors also—but that doctors have come all this way here to help," says Dr. Rackoff.
Yes, the members of the mission heard the scary sounds of war, but they felt relatively safe in Lviv, far from the front lines where violent battles rage. At the end of one workday three members of the mission sat in a hotel bar and shared stories about their experiences and impressions of a dynamic city that reflects the Ukrainian character.
Mission, Drugs, Medical Supplies
Rheumatologists with this mission provide medical treatment how and where it's needed, says Michael Pillinger, MD, a rheumatologist at NYU Langone, New York, who joined Dr. Rackoff for this year's visit to the region.