Because everyone in the group was busy with their family and careers, rehearsals were minimal, usually once a week. As the type of person who enjoys a challenge, Dr. Parks needed and wanted a more intense experience. So in 2002, she dropped out of Midwest Chorale and auditioned for the St. Louis Symphony Choir. To her surprise, she was accepted.
You Might Also Like
Explore This Issue
June 2014
Also By This Author
"Classical music is a different style of singing," she explains. Besides taking weekly voice lessons, she rehearses on her own for two hours each week and attends weekly symphony chorus rehearsals for three hours in the evening. During the week of a performance, there are three rehearsals, each three hours. Once is with the piano and chorus (referred to as a conductor rehearsal), another is with the orchestra, and the third is a dress rehearsal.
ADVERTISEMENT
SCROLL TO CONTINUE
Still, she has no complaints about the grueling schedule. "The experience of singing with an orchestra of the nature of the St. Louis symphony is pretty thrilling," says Dr. Parks.
So was performing at Carnegie Hall. In 2006, the choir performed with the symphony at the concert venue in midtown Manhattan.
ADVERTISEMENT
SCROLL TO CONTINUE
"We went back in 2013," she says. "That's always fun."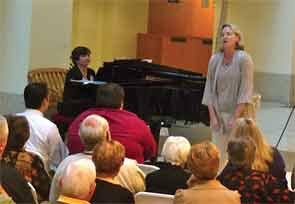 Dr. Parks performs for patients and visitors at the Siteman Cancer Center, Barnes Jewish Hospital, in St. Louis.
Boosting Patient Spirits
Perhaps what Dr. Parks is most proud of with regard to her musical career is launching an arts-in-medicine program in 2010 at the Siteman Cancer Center at Barnes-Jewish Hospital in St. Louis, one of the hospital's major outpatient centers. On the first Sunday of every month, local musicians voluntarily perform in the facility's atrium for roughly an hour to raise patients' spirits.
ADVERTISEMENT
SCROLL TO CONTINUE
Sundays were chosen because it's a "low day" for patients and guests. Some are anxious or stressed because they have to wait until Monday to take important tests or receive test results and others may engage in difficult health conversations with their loved ones.
Among the performers has been the symphony chorus with Dr. Parks. When musicians around town heard about the program, especially after learning the symphony choir occasionally performs, Dr. Parks says many of them contacted the program director, wanting to volunteer their time and talent. Because many patients enjoy hearing their own doctor sing, Dr. Parks has performed several solos. "It's a fantastic feeling for me," she says.
A grand piano sits in the hospital's atrium. "You can walk in any day of the week and you'll see somebody at the grand piano playing. Many times, patients will go there and play."