You Might Also Like
Explore This Issue
June 2014
Also By This Author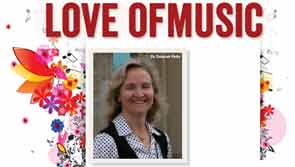 ADVERTISEMENT
SCROLL TO CONTINUE
"Summertime and the livin's easy …"
Deborah L. Parks, MD, has been singing these lyrics from the George Gershwin song for years. It's one of her favorites.
ADVERTISEMENT
SCROLL TO CONTINUE
As a rheumatologist in the Division of Rheumatology at Washington University School of Medicine in St. Louis, she says she's been singing ever since she was a little girl, initially in her church choir. As a teenager, she attended a drama and music camp in New York, where she worked with Academy Award winner Kevin Kline and Tony Award winner Patti LuPone in Private Lives before they were famous. Later, in high school and college, she performed supporting roles in classic musicals, such as Annie Get Your Gun and South Pacific.
Despite her vocal talent and musical ability—she also played the clarinet and still plays the piano—Dr. Parks chose medicine over theater, believing her talent wasn't special enough to earn a comfortable living. However, the St. Louis Symphony Choir may think otherwise. Dr. Parks has been a choir member for 11 years, performing not just locally, but also with the symphony and choir at Carnegie Hall. As a music lover and part-time performer, she says it doesn't get much better than that.
ADVERTISEMENT
SCROLL TO CONTINUE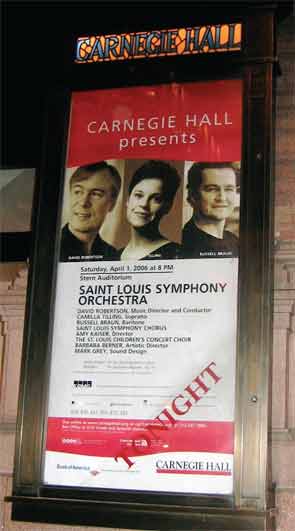 Dr. Deborah Parks performed with the St. Louis Symphony at Carnegie Hall in 2006 and again in 2013.
Church to Carnegie Hall
Some people sing in the shower, and when she was a young physician, Dr. Parks, age 56, sang in her car while driving to work, the mall or the grocery store.
Back then, she didn't actively perform. "There was only so much time in a day," she says. But by the time her youngest child had reached the age of 4, Dr. Parks realized something was missing from her life—a creative outlet for her stress.
She returned to her roots and started singing in the church choir again. The choir director recognize Dr. Parks' talent and asked her to join a small musical group the director had formed: Midwest Chorale.
"That was very appealing to me, because I enjoy different types of music (and) wanted a chance to be in a smaller group where people had a higher level of musicianship," Dr. Parks says.
For the next several years, the group performed nearly every month, mostly jazz and blues numbers at dinner parties and local events. One of her favorite performances was at the Missouri History Museum, which was celebrating the anniversary of Charles Lindbergh's first flight. She says the group performed Take Flight, an American musical about Lindbergh.
Because everyone in the group was busy with their family and careers, rehearsals were minimal, usually once a week. As the type of person who enjoys a challenge, Dr. Parks needed and wanted a more intense experience. So in 2002, she dropped out of Midwest Chorale and auditioned for the St. Louis Symphony Choir. To her surprise, she was accepted.
"Classical music is a different style of singing," she explains. Besides taking weekly voice lessons, she rehearses on her own for two hours each week and attends weekly symphony chorus rehearsals for three hours in the evening. During the week of a performance, there are three rehearsals, each three hours. Once is with the piano and chorus (referred to as a conductor rehearsal), another is with the orchestra, and the third is a dress rehearsal.
Still, she has no complaints about the grueling schedule. "The experience of singing with an orchestra of the nature of the St. Louis symphony is pretty thrilling," says Dr. Parks.
So was performing at Carnegie Hall. In 2006, the choir performed with the symphony at the concert venue in midtown Manhattan.
"We went back in 2013," she says. "That's always fun."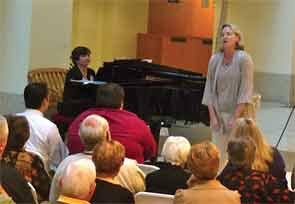 Dr. Parks performs for patients and visitors at the Siteman Cancer Center, Barnes Jewish Hospital, in St. Louis.
Boosting Patient Spirits
Perhaps what Dr. Parks is most proud of with regard to her musical career is launching an arts-in-medicine program in 2010 at the Siteman Cancer Center at Barnes-Jewish Hospital in St. Louis, one of the hospital's major outpatient centers. On the first Sunday of every month, local musicians voluntarily perform in the facility's atrium for roughly an hour to raise patients' spirits.
Sundays were chosen because it's a "low day" for patients and guests. Some are anxious or stressed because they have to wait until Monday to take important tests or receive test results and others may engage in difficult health conversations with their loved ones.
Among the performers has been the symphony chorus with Dr. Parks. When musicians around town heard about the program, especially after learning the symphony choir occasionally performs, Dr. Parks says many of them contacted the program director, wanting to volunteer their time and talent. Because many patients enjoy hearing their own doctor sing, Dr. Parks has performed several solos. "It's a fantastic feeling for me," she says.
A grand piano sits in the hospital's atrium. "You can walk in any day of the week and you'll see somebody at the grand piano playing. Many times, patients will go there and play."
Dr. Parks also encourages other physicians who are budding musicians to step into the limelight. She points to several peers who perform with the St. Louis Philharmonic Orchestra.
Dr. Parks says she's fortunate to be part of the symphony choir, which is known for its vocal and artistic quality. Members must audition every year. To keep her voice in shape, she never skips a rehearsal or private voice lesson.
"Physicians practice in a stressful environment," she says. "Having an outlet is very important. [Music] is something you can do lifelong, as an amateur or professional. It's been very cool."
---
Carol Patton, a freelance writer based in Las Vegas, Nev., writes the Rheum After 5 column for The Rheumatologist.