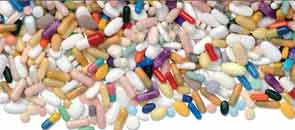 Pipeline and Drug Approvals
In late July, an independent advisory panel to the Food and Drug Administration (FDA) voted against approving adalimumab for treatment of nonradiographic (early-stage) axial spondylarthritis that has not responded to other treatments.1 This panel recommended additional trials in order to prove efficacy of adalimumab for treating early-stage spondylarthritis. The FDA panel will use this information in their final consideration about whether to approve this agent.
Buprenorphine/naloxone sublingual tablets have been approved by the FDA for individuals with opioid dependence.2 This combination agent should be used as part of a complete treatment plan, including counselling and psychosocial support. According to its manufacturer, this new menthol product has higher bioavailability and a faster dissolution time. It also has a smaller tablet size compared to similarly available products.
An advisory panel to the FDA recommended approving certolizumab for treatment of active axial spondylarthritis, ankylosing spondylitis, and nonradiographic axial spondylarthritis.3 The panel unanimously voted in support of the drug's safety profile.
In late June, Sandoz (the generic division of Novartis) began a phase III clinical trial with a biosimilar version of etanercept for treatment of patients with moderate to severe chronic plaque psoriasis.4 This study is evaluating the biosimilarity between this "biogeneric" and etanercept (brand) regarding efficacy, safety, and immunogenicity.
Golimumab (Simponi Aria), the tumor necrosis factor inhibitor (TNF), has been FDA approved as an intravenous (IV) infusion for treating moderate to severe rheumatoid arthritis (RA) for those patients with an inadequate response to methotrexate (MTX).5 Approval was based on the results of the Golimumab, an Anti-TNF-alpha Monoclonal Antibody, Administered Intravenously, in Subjects with Active Rheumatoid Arthritis Despite Methotrexate Therapy (GO-FURTHER) trial in 592 patients in a multicenter, double-blind, randomized, placebo-controlled trial. The approved regimen includes a 2-mg/kg IV infusion over 30 minutes. This is administered at baseline, after Month 1, and every two months thereafter.
Oxymorphone hydrochloride extended-release tablets (generic Opana ER) have been FDA approved.6 The following strengths are available: 5 mg, 10 mg, 20 mg, 30 mg, and 40 mg. The branded product is FDA approved for treating moderate to severe pain in adults requiring around-the-clock opioid treatment for an extended period.
Paroxetine mesylate (Brisdelle), the selective serotonin reuptake inhibitor, has been FDA approved as the first nonhormonal treatment to relieve moderate to severe vasomotor symptoms with menopause (e.g., hot flashes).7 It is available in a 7.5-mg capsule and should be taken daily at bedtime without regards to food.