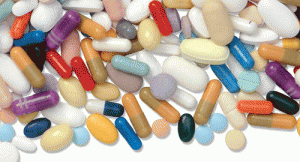 Patients with OA on Low-Dose SoluMatrix Meloxicam Use Less Rescue Medication
Vivlodex, low-dose SoluMatrix meloxicam, capsules contain medication particles that are approximately 10 times smaller than in their original formulation, leading to increased surface area, faster dissolution and rapid absorption.1 In a Phase 3 clinical trial of patients with osteoarthritis (OA) and pain, patients who were treated with this meloxicam formulation used less rescue pain medication, regardless of time of day the treatment was taken, than patients who received placebo.2 Patients who took 10 mg Vivlodex-meloxicam had greater benefits, taking around half as much rescue medication (500 mg acetaminophen) as placebo-treated patients.
Also By This Author
The data were presented at the 35th Annual Scientific Meeting of the American Pain Society in Austin by one of the poster co-authors, Alan J. Kivitz, MD, CPI, president of the Altoona Center for Clinical Research, Duncansville, Pa., and president of the Altoona Arthritis and Osteoporosis Center, also in Duncansville.
ADVERTISEMENT
SCROLL TO CONTINUE
This was a Phase 3, 12-week, double-blind, multicenter, placebo-controlled study that enrolled 403 adults who were chronic non-steroidal anti-inflammatory and/or acetaminophen users with knee or hip OA. Patients were randomized to receive either once daily Vivlodex (either 5 or 10 mg) or placebo. Acetaminophen rescue medication was allowed every four to six hours as needed, which was provided in bottles equipped with a medication event monitoring system (MEMS) cap that recorded bottle openings. Pill counts were also conducted. By using MEMS to capture use of rescue medication, this study was able to obtain insight as to the time of day rescue medication was needed. These types of data usually cannot be obtained unless patients are observed at all times, which increases clinical trial manpower and costs.
FDA Warning: Off-Label Use of Ketoconazole Results in Death
The U.S. Food and Drug Administration (FDA) is reminding healthcare professionals not to prescribe oral ketoconazole to treat skin and nail fungal infections.3 Patients using oral ketoconazole for treating onychomycosis and fungal skin infections run the risk of serious hepatotoxicity, adrenal gland problems and harmful drug interactions. The benefits do not outweigh the risks in treating these conditions, which are not approved uses for this product. This indication was removed from the ketoconazole label in 2013.
ADVERTISEMENT
SCROLL TO CONTINUE
An FDA safety review has determined that oral ketoconazole continues to be prescribed to treat skin and nail fungal infections. Subsequent to the 2013 label change, at least one patient death due to liver failure has been associated with its use and reported to the FDA. Healthcare professionals should reserve oral ketoconazole tablets to treat only serious fungal infections when no other antifungal therapies are available.