'Living' Pelvis in the Guinness Book of World Records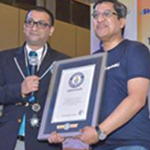 Shashank Akerkar, MD, an ACR fellow and rheumatoid arthritis specialist at the Mumbai Arthritis Clinic and Research Center in India, found a unique way to draw attention to ankylosing spondylitis (AS). He persuaded 425 patients, mostly those suffering from AS or affected by lupus or rheumatoid arthritis, to stand under one roof in the shape of a pelvic bone. Besides reaching his goal—to raise awareness about the autoimmune disease—the photo of the event was also entered in the Guinness Book of World Records.
"We created the largest human image of a human bone," says Dr. Akerkar. "No one has done something similar, to the best of our knowledge. We chose to portray the pelvis, because AS affects the sacroiliac joints," he says.
ADVERTISEMENT
SCROLL TO CONTINUE
The goal was to raise awareness of AS and reduce the average six- to seven-year delay in diagnosing this disabling arthritis. "Patients pay the price of the delayed diagnosis in terms of disability," says Dr. Akerkar.
Thanks to social media, people from all over India participated. Bollywood comedian Johny Lever joined in to help boost attendance. After the event, a symposium for AS patients was held.
ADVERTISEMENT
SCROLL TO CONTINUE
The Study of Pain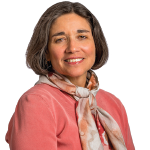 A research scientist at the Shirley Ryan AbilityLab (formerly known as the Rehabilitation Institute of Chicago), Linda S. Ehrlich-Jones, PhD, RN, is studying behavioral interventions for people with chronic pain, including those with rheumatic conditions.
Between 2005 and 2010, she collaborated with Rowland Chang, MD, MPH, a professor of medicine at the Feinberg School of Medicine at Northwestern University, Chicago. The pair studied the effects of motivational interviewing, a counseling approach that includes open-ended questions, affirmations, reflective listening and summarization. The overall goal was to empower people with rheumatic disease to problem solve and set and accomplish goals to become more physically active.
Since then, Dr. Ehrlich-Jones has developed a survey tool that gages patient perceptions about motivational interviewing when conducted by non-clinicians, such as health coaches. Do patients find it helpful? The survey will help her identify how this counseling approach needs to be changed or fine-tuned.
ADVERTISEMENT
SCROLL TO CONTINUE
As a former recipient of the Addie Thomas service award from the ARHP, Dr. Ehrlich-Jones still volunteers for the Arthritis Foundation—but now in a limited capacity—to increase awareness of rheumatic conditions and help patients find ways to become more active.
"My research is ongoing," says Dr. Ehrlich-Jones, who earned her doctoral degree at the University of Illinois. "I'm hoping to determine what the best approach is to work with people with arthritis to help them be more active."
Dr. Oatis Studies the Role Physical Therapy Plays in Functional Outcome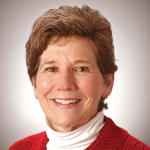 For nearly 40 years, Carol A. Oatis, PT, PhD, a professor in the physical therapy department at Arcadia University in Glenside, Penn., and past ARHP president, has been studying patients with rheumatic diseases. Early on, her research applied mechanical analysis to better understand movement and movement disorders. Working with individuals both with and without osteoarthritis, she has explored new ways to measure knee joint stiffness, discovering an association between this measurement and patient complaints.