Dr. Liang recalls his first presentation at a weekly Friday seminar, when he began to formulate his ideas about the functional consequences of chronic disease. According to Dr. Liang, Dr. Holman's first response was, "Who cares?"
You Might Also Like
Explore This Issue
November 2007
Also By This Author
Dr. Liang laughs and says, "He wasn't saying 'who cares' in a negative way—he was just pushing us to defend ourselves."
ADVERTISEMENT
SCROLL TO CONTINUE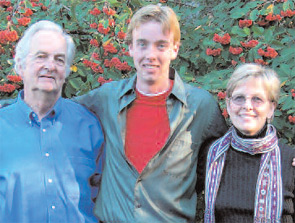 The Holman family gathers together for a Christmas photo.
Patients Key to Good Care
What emerged from the experience with chronic rheumatic diseases and from the Clinical Scholars Program, says Dr. Holman "was an understanding that helping patients with chronic disease wasn't just a question of bringing to bear some sociological, psychological, or economic knowledge. Rather, since we couldn't cure chronic disease, we needed to develop another approach to clinical practice."
It had also become clear to Dr. Holman and his colleagues, as they dealt with their rheumatic disease patients, that their patients were the key to good care. "They were really the principal caretakers because they had to live with the disease, take the medications, change their behaviors, and adjust to the consequences [of their disease] socially, economically, and emotionally."
ADVERTISEMENT
SCROLL TO CONTINUE
Shortly thereafter Dr. Holman; Stanford Shoor, MD, adjunct clinical professor of medicine and rheumatology at Stanford; and others organized the Midpeninsula Health Service, a health service that sought to involve patients through supervised self care and make them the physicians' partners. Then, new federal funding for multipurpose arthritis centers created an opportunity to further their work with patient education. The funding required an educational research component, recalls Kate Lorig, RN, DrPH, director of the Stanford Patient Education Research Center and professor of medicine at Stanford. In 1979, she was a doctoral candidate at UC Berkeley and applied to conduct the patient education research.
Dr. Lorig initially turned the job down. Her expertise at the time was in maternal and child health, and she felt the project would be too time-consuming while pursuing her thesis. Dr. Holman called her to encourage her to take the job. "I told him … he needed to know I wasn't terribly interested in arthritis and that I was probably going to go elsewhere in two years."
That was 29 years ago. Since the initial research project, the two have collaborated on the Arthritis Self-Management Program and the Chronic Disease Self-Management Program, and contributed to developing the Chronic Care Model of practice created by the Improving Chronic Illness Care program of the Robert Wood Johnson Foundation.3
ADVERTISEMENT
SCROLL TO CONTINUE
Current Concerns
Dr. Holman continues his work at Stanford, helping to introduce the Chronic Care Model into medical practices in California. He voices frustration that the model has not been adequately addressed in medical education, but sees some progress with a recent experimental program set up through the Association of American Medical Colleges (AAMC) to include the Chronic Care Model in resident training at 22 medical colleges. As a result of that success, he is participating in a new program of the AAMC and the California Health Care Foundation to install the Chronic Care Model in California medical schools. In his time off, Dr. Holman enjoys playing tennis, spending time with family and friends, and the challenges and rewards of parenting (he and his wife Diana have a son in college).
A Gift for Mentoring
"I think a great deal of [Dr. Holman's] work has been done through others—guiding them, giving his insight," says Dr. Lorig. "I've heard Hal talk about giving people all the freedom they will take and all the support that they need. And I was a very good example of that. I have always truly appreciated that he was willing to work with a non-physician and a woman. Very few physicians would take seriously a doctoral student who was a nurse. It wasn't commonplace [even in 1979], and I think that we tend to forget that today. Again, it's another example that he was well, well before his time."