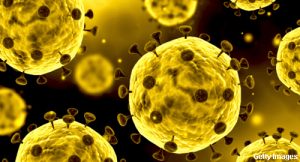 Sarilumab (Kevzara) is an injectable interleukin 6 (IL) receptor blocker currently approved by the U.S. Food and Drug Administration (FDA) to treat adults with moderate to severe rheumatoid arthritis (RA). This treatment is designed for patients who are intolerant to at least one disease-modifying anti-rheumatic drug (DMARD) or for whom DMARDs have proved ineffective.
Also By This Author
In March, researchers began investigating sarilumab's potential for reducing the overactive inflammatory immune response associated with the COVID-19 virus.1 IL-6 may play a role in the overactive pulmonary inflammatory response of acute respiratory distress syndrome in severely or critically ill patients with COVID-19. This possibility was borne out of the use of tocilizumab, another IL-6 receptor antibody, during a preliminary, single-arm study in China. In that study, patients with COVID-19 (N=21) experienced rapidly reduced fevers, and 75% of patients (15 of 20) had reduced supplemental oxygen needs within days of receiving tocilizumab. After these results, China updated its COVID-19 treatment guidelines, approving the use of tocilizumab for patients with severe or critical disease.
ADVERTISEMENT
SCROLL TO CONTINUE
Study Design
The U.S.-based sarilumab trial will begin in medical centers in New York, one of the epicenters of the U.S. COVID-19 outbreak. Mount Sinai Hospital and Northwell Health have already announced their participation. This study will assess the safety and efficacy of adding sarilumab to usual supportive care vs. no drug treatment with supportive care in adults hospitalized with serious complications from COVID-19. This study is designed as a randomized, multi-center, double-blind, placebo-controlled phase 2/3 trial. The adaptive design has two parts and is anticipated to enroll up to 400 patients.2,3
The first phase of the study will recruit patients with severe COVID-19 infection across approximately 16 U.S. sites. Researchers will evaluate the effect sarilumab has on fever and patients' need for supplemental oxygen. The second, larger part of the trial will evaluate longer-term outcomes, including preventing death and reducing the need for mechanical ventilation, supplemental oxygen and/or hospitalization. Patients will receive high- or low-dose sarilumab or placebo. The primary endpoint is reduction of fever, and the secondary endpoint is decreased need for supplemental oxygen. (Note: At press time, the study's sarilumab dosages remained undisclosed.)
ADVERTISEMENT
SCROLL TO CONTINUE
To participate in the trial, patients must be hospitalized with laboratory-confirmed COVID-19 that is classified as severe or critical or suffering from multi-organ dysfunction due to the virus. All participants must have pneumonia and fever. After receiving the study dose, patients will be assessed for 60 days or until hospital discharge or death.