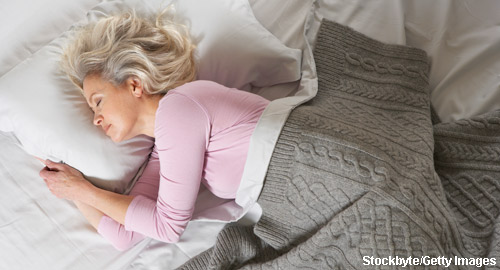 More than half of people with rheumatoid arthritis (RA) report clinically significant sleep problems.1 Despite this fact, your patients may not realize that a lack of good sleep may be exacerbating their fatigue, depression and pain, suggests Michael R. Irwin, MD, Cousins Distinguished professor of Psychiatry and Biobehavioral Sciences and director of the Cousins Center for Psychoneuroimmunology, Semel Institute of Science at the David Geffen School of Medicine at UCLA in Los Angeles, Calif.
You Might Also Like
Also By This Author
"We know that sleep problems affect pain," Dr. Irwin says. "Initially it was thought that inflammatory pain impaired sleep, but research has uncovered reciprocal effects between sleep and pain. Sleep problems can lead to increased perceptions of pain, and RA patients who experience sleep problems show an exaggerated increase of pain perception or hyperalgesis."2
ADVERTISEMENT
SCROLL TO CONTINUE
Over the past decade, Dr. Irwin and colleagues have uncovered compelling evidence about how sleep disturbance affects neuroimmune function by initiating inflammatory response, which may also affect pain and RA disease progression. Here's how: Sleep disturbance can trigger an increase in circulating markers of inflammation, such as C-reactive protein (CPR) and interleukin-6 (IL-6), the very same proteins that can trigger inflammatory response in RA patients. In fact, the medications RA patients are given to treat their rheumatologic conditions block these proteins and have also been found to improve complaints of insomnia.
Starting the Conversation
Dr. Irwin believes the key message rheumatologists should share with their patients is that disturbed sleep is not necessarily a consequence of a rheumatologic condition. But rather, sleep disturbance can be a predictor, and even a driver, of worsening inflammatory pain.
ADVERTISEMENT
SCROLL TO CONTINUE
One of the primary measures of successful sleep is waking up feeling restored. If a patient says they are waking in the morning not feeling restored, Dr. Irwin recommends asking three questions to help determine the pattern of sleep disturbance:
Do you have difficulty getting to sleep?
Do you wake up at night and have difficulty getting back to sleep?
Do you wake in the morning and not feel rested?
Supporting Healthy Sleep
In talking about sleep with patients, Dr. Irwin says rheumatologists can begin by explaining good habits—what he calls "sleep hygiene."
"You would be surprised how poor many people's sleep habits are. Yet they don't realize the negative effect these poor sleep habits may have on their health, and this [issue] can be even more of a concern for RA patients," Dr. Irwin stresses.
ADVERTISEMENT
SCROLL TO CONTINUE
Here are six tips for successful sleep:
Establish a regular sleep schedule, going to sleep and waking at the same times;
Don't drink alcohol in the evening;
Don't drink caffeinated beverages in the afternoon or evening;
Make time to exercise during the day, if you can tolerate it;
To help regulate your circadian rhythm, make time for natural light exposure throughout the day, particularly in the morning and evening; and
Reserve your bedroom for sleeping and intimate sexual activity only. Don't allow television/screens, food or work in your bedroom to ensure your bed remains a place dedicated to rest.
"Sleeping is a learned behavior," Dr. Irwin emphasizes. "Your bed must remain dedicated to restful activity to support healthy sleeping habits."