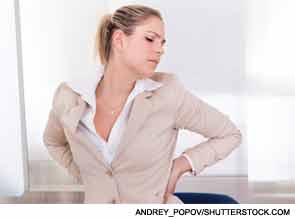 Inflammatory back pain is a starting point for diagnosis of spondyloarthritis.
SAN FRANCISCO—Historically, the average time from onset of symptoms of spondyloarthritis (SpA) to diagnosis has been six years for men and 10 years for women. The reasons for delay are complex, said Philip J. Mease, MD, director, Rheumatology Research, Swedish Medical Center and clinical professor, University of Washington School of Medicine, Seattle, Wash., in his presentation at the 10th Annual Medical and Scientific Meeting of the California Rheumatology Alliance. For starters, "back pain is a common presenting symptom of humans," so clinicians often attribute back pain to mechanical or degenerative etiology. "A lot of the problem is simply that patients are not being referred to rheumatologists."
Even after referral, it takes time to ferret out the features of this complex of diseases. A dearth of definitive lab markers also hinders diagnosis: "We see elevation of C-reactive protein and/or sedimentation rate (CRP/ESR) in less than half of people with SpA," said Dr. Mease. "There is a need for soluble biomarkers that will be specific for diagnosis of this disease."
Some diagnostic clues are genetic: Positive HLA-B27 and family history are strongly tied to ankylosing spondylitis (AS), for example. Other parameters include concomitant disease, such as psoriasis, Crohn's or uveitis. In addition, said Dr. Mease, "Infection may trigger spondyloarthritis in someone genetically predisposed to the disease."
Progress in Classification
Broadening disease classifications in the spondylo­arthritides in the past two decades have fueled better understanding, assessment and management strategies. Dr. Mease traced the evolution of diagnostic criteria. In 1984, the modified New York Criteria for AS included the traditional criterion of Grade 2 radiographic changes in the sacroiliac joints. The Amor Classification Criteria, published in 1990, assign numerical weights to radiological studies and to clinical features (e.g., morning stiffness, dactylitis and enthesitis). "What's good about the Amor Classification is that it includes many of the clinical features that we, as rheumatologists, put together as part of the pattern recognition approach to defining SpA," said Dr. Mease.

Dr. Mease
More recent classification criteria include a wider range of SpA features. Those include the European Spondyloarthropathy Study Group (ESSG)'s expanded criteria in 1991 and the 2009 Assessment of SpondyloArthritis International Society (ASAS) Classification Criteria for Axial Spondyloarthritis, from an international, multicenter study of more than 600 patients referred to ASAS centers. The first criteria are presence of three months or longer of back pain and age of onset younger than 45 years. If the patient then has either abnormal imaging (either X-ray or MRI evidence of sacroiliitis) or a positive HLA-B27 and additional characteristic clinical features of disease, such as enthesitis, positive family history for SpA and elevated CRP, they may fulfill classification specificity.