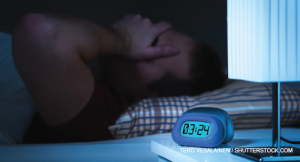 In a study in Arthritis Care & Research, researchers showed an indirect association between osteoarthritis (OA) and sleep health in older men.1 In those participants with OA, the condition is associated with poorer sleep health, as well as a 16% higher incidence of elevated C-reactive protein and 12% higher odds of having elevated interleukin 6. It may be, say two authors connected with the study, that assessing patients' sleep patterns and sleep health would be useful adjuncts in the ongoing management of these patients.
You Might Also Like
Explore This Issue
February 2020
Also By This Author
Alerted to Rich Data Set
In previous research conducted at Pennsylvania State University, lead author Soomi Lee, PhD, focused on sleep health across the lifespan. She has explored the predictors of sleep health and how those differ between age groups, such as adolescents vs. middle-aged workers. Currently assistant professor in the School of Aging Studies at the University of South Florida, Tampa, Dr. Lee has been turning her focus to sleep patterns in older adults.
"Because I was interested in sleep health in older adults, I was paying attention to a news alert and found that the dataset from the NIA/NIAMS [National Institute on Aging/National Institute of Arthritis and Musculoskeletal and Skin Diseases] sponsored study, Osteoporotic Fractures in Men Study (MrOS), was publicly available," Dr. Lee says, describing the genesis of her latest study. The National Institute on Aging, in collaboration with Sutter Health's California Pacific Medical Center Research Institute, released the dataset in November 2017.2
That longitudinal study featured 16 years' worth of anonymous data collected from 5,994 community-dwelling older men. The study was coordinated by investigators at six academic institutions: University of Alabama, Birmingham; University of Minnesota; University of Pittsburgh; Stanford University; Oregon Health & Science University; and University of California, San Diego. Participants were examined at baseline for fracture risk.
ADVERTISEMENT
SCROLL TO CONTINUE
But the additional bonanza for investigators is the wealth of data collection. At regular intervals, MrOS researchers conducted spinal X-rays and bone density exams and collected serum samples. They also assessed other factors, such as oral health, sleep health and patterns, and markers for cardiovascular disease.
What caught Dr. Lee's attention about the public release of the dataset is that 3,135 men in the MrOS study participated in an ancillary sleep study from 2003–2005. Participants were first screened for use of any mechanical devices during sleep, such as pressure masks for sleep apnea or oxygen therapy, and those who used such devices were excluded from the sleep study. Sleep patterns were assessed for the resulting number of participants (2,562) via self-report questionnaires, and actigraphy was used to assess periods of sleep and wakefulness. In addition, other routine measures used in the MrOS study were noted, especially urine and serum specimen collection.
Use of MrOS Study Data
Based on self-reported diagnoses and medication use, the 2,562 participants were classified as having either OA (24%) or rheumatoid arthritis (RA) (0.7%). Dr. Lee says she and her research colleagues constructed a composite score of multi­dimensional sleep health encompassing five dimensions. Those were: perceived sleep quality using self-report, sleepiness using self-report, frequency of daytime napping using actigraphy assessment, amount of waking in the middle of the night using actigraphy, and actigraphy-assessed sleep duration.
ADVERTISEMENT
SCROLL TO CONTINUE
The researchers then looked at the serum samples from study participants and used elevated levels of C-reactive protein and interleukin 6 as indicators of inflammation. They controlled for age, smoking status, relevant medication use and comorbidities. They found a significant direct association of RA with elevated C-reactive protein and inter­leukin 6—not a new finding—but also tested whether that association was mediated by sleep health. It was not. However, men with OA exhibited poorer sleep health than those without OA. Further, poorer sleep health was associated with 16% higher odds of having elevated C-reactive protein. Poorer sleep health was also associated with a 12% higher risk of elevated interleukin 6.
Study Implications
Researchers have known for some time the central nervous system is responsive to inflammation and that this affects sleep quality. "We've known that OA and pain impact sleep quality and circadian rhythm, but we hadn't connected this with inflammation," says study co-author Nancy E. Lane, MD, MACP, distinguished professor of medicine, Center for Musculoskeletal Health/Medicine and Rheumatology at the University of California, Davis, School of Medicine.
Dr. Lee had approached Dr. Lane, a senior member of the MrOS study, to get feedback and pivotal support when the study authors were seeking to classify participants' arthritis diagnoses. In fact, Dr. Lee notes, one of the study's limitations is that diag­noses of OA and RA were based on self-report. When Dr. Lane examined the medication lists for these participants, she was able to discern which participants were likely to have RA. In the study sample Dr. Lee was using, 8% of the participants reported they had RA. However, only 0.7% were actually on RA-specific medications, such as disease-modifying anti-rheumatic drugs.
Dr. Lane enjoys mentoring young investigators and notes that she and other MrOS investigators would be open to questions about musculoskeletal diseases in the longitudinal cohort. She invites them to contact her at nelane@ucdavis.edu, and she can direct the question to the appropriate MrOS investigators.
Based on their study findings, the authors suggest that promoting sleep health in men with OA may help reduce the risk of systemic inflammation. Dr. Lane concurs with this recommendation. "These findings speak to checking on how many times your patients with large joint OA are waking up from pain," she says. However, if patients are having trouble getting back to sleep, physicians must exercise caution about prescribing sleep medications due to the risk of imbalance and falls.
Dr. Lee is already planning her next sleep study. "Systemic inflammation is a hallmark of chronic disease in late adulthood and arthritis," she says. "Although we focused on older men in this study, we think that we may be able to replicate the study findings using a sample of older women."
---
Gretchen Henkel is a health and medical journalist based in California.
References
Lee S, Stone KL, Engeland CG, et al. Arthritis, sleep health, and systemic inflammation in older men. Arthritis Care Res (Hoboken). 2019 May 10. doi: 10.1002/acr.23923. [Epub ahead of print].
Lyndon Joseph, National Institute on Aging. Release of MrOS dataset offers new opportunities for investigators.