Presidential Gold Medal
The highest award the ACR can bestow, the Presidential Gold Medal is awarded in recognition of outstanding achievements in rheumatology over an entire career. This year's award went to James O'Dell, MD, the Stokes-Shackleford Professor of Internal Medicine, vice chair of internal medicine and chief of the Division of Rheumatology at the University of Nebraska Medical Center (UNMC), Omaha, and the Omaha VA.
Dr. O'Dell graduated from the University of Nebraska, Lincoln, with a Bachelor of Science in electrical engineering. He went on to earn his medical degree at UNMC, where he also completed his residency and chief residency in internal medicine. He later completed a clinical and research fellowship at the University of Colorado Health Services Center, Denver.
ADVERTISEMENT
SCROLL TO CONTINUE
"My own interest in rheumatology came after doing a rotation with Art Weaver, MD, who was the first rheumatologist in Nebraska," Dr. O'Dell says. "He was my role model, and I thought the field of rheumatology would be a good fit and also might allow me something of a work/life balance."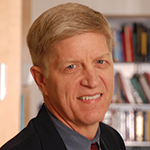 In addition to his work at the university, Dr. O'Dell is the founder and director of the Rheumatoid Arthritis Investigational Network (RAIN), a group of rheumatologists conducting investigator-initiated trials to find better treatments for RA. "We've helped pioneer the use of combinations of medications to successfully and economically treat RA," Dr. O'Dell says. "Patients with RA now have much better controlled disease with less costly therapies because of RAIN research."
ADVERTISEMENT
SCROLL TO CONTINUE
In 2015, Dr. O'Dell received UNMC's Research Leadership Award for his work with RAIN. The group's achievements include pioneering the use of triple therapy to treat RA and studies that compare the efficacy and cost of conventional and biologic DMARDs.
Dr. O'Dell served as UNMC's director of internal medicine residency for more than 35 years and trained more than a thousand residents. In 2019, he was honored with the Educator Laureate Award, the university's highest honor.
In 2015, Dr. O'Dell also embarked on a national gout study with the Veterans Administration. The study, which he is just completing, examines allopurinol and febuxostat as first-line treatments for gout. He has been published several hundred times, including four first-authored publications in the New England Journal of Medicine.
Dr. O'Dell served as president of the ACR in 2012. Over the years, he has served in numerous other leadership positions with the ACR and the Rheumatology Research Foundation. In 2015, he was named to the Foundation's Honorary Board of Advisors and received the ACR Distinguished Clinical Educator Award.