Discussion
Image 1 demonstrates two nodules in the right lung, one over the lateral costophrenic sulcus (2.4 x1.7 cm, not shown); and another in the middle lobe (3.1 x 2.6 cm), with lobulated and spiculated margins (red arrow). There was no lymphadenopathy or pleural effusion. Of note, a normal chest X-ray from four years prior was available.
You Might Also Like
Explore This Issue
May 2018
Also By This Author
The CT was concerning for a neoplasm, which was corroborated by a subsequent PET-CT, showing hypermetabolic activity; however, there was no evidence of metastases. Baseline labs showed mild leukocytosis and microcytic anemia. Bronchoscopy and bronchoalveolar lavage were also unremarkable. Both adalimumab and methotrexate were discontinued, and she was treated with oral prednisone. A CT-guided lung biopsy was negative for malignancy and IgG4 disease showing inflammatory cells. A CT chest two weeks later (prior to a planned repeat biopsy) demonstrated significant interval decrease in the nodules' size (not shown), and a biopsy was not done.
ADVERTISEMENT
SCROLL TO CONTINUE
In a follow-up CT chest eight months later (Image 2) the nodules appeared almost resolved (red arrow). The patient was later restarted on methotrexate 20 mg SQ weekly, as well as weekly abatacept injections, with good control of RA and without recurrence of lung nodules.
Rheumatologists must be aware of potential lung diseases caused by TNF inhibitors (TNFIs) besides infections. A number of noninfectious pulmonary side effects are becoming increasingly recognized. These reactions include pulmonary fibrosis, granulomatous lesions, pneumonitis, as well as pulmonary nodules.1,2
ADVERTISEMENT
SCROLL TO CONTINUE
A study in the Journal of Rheumatology reported on RA patients receiving anti-tumor necrosis factor-alpha (TNF-alpha) therapy who developed pulmonary nodulosis or aseptic granulomatous lung disease. As in our patient, the nodules resolved after stopping TNFIs.2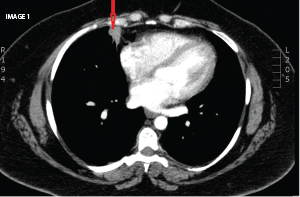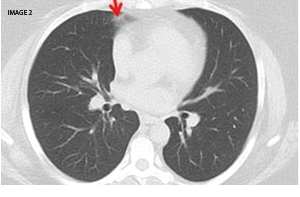 ---
Sunita Paudyal, MD, is an assistant professor in the Division of Rheumatology at the University of South Carolina School of Medicine. She completed her internal medicine residency at Providence Portland Medical Center, Oregon, and her fellowship at the Medical College of Georgia, Augusta.
ADVERTISEMENT
SCROLL TO CONTINUE
Laura B. Herpel, MD, is board certified and fellowship trained in pulmonary medicine, critical care medicine and sleep medicine. Dr. Herpel earned her medical degree from the University of South Carolina School of Medicine. She completed her internal medicine residency and fellowship training at Johns Hopkins University School of Medicine in Baltimore.
References
Thavarajah K, Wu P, Rhew E, et al. Pulmonary complications of tumor necrosis factor targeted therapy. Respir Med. 2009 May;103(5):661–669.