"The task of the modern educator is not to cut down jungles but to irrigate deserts," said mid-20th century scholar and writer C.S. Lewis. Although he was speaking to the importance of the holistic education of students, the same idea rings true for a 21st century nurse practitioner (NP) new to rheumatology. Indeed, the care of patients suffering from rheumatic diseases requires knowledge, but knowledge has little to offer if it does not come from a person who is compassionate, creative, patient and humble. Not found in textbooks, these qualities must be demonstrated in practice by teachers and mentors.
You Might Also Like
Explore This Issue
July 2021
Through the Rheumatology Research Foundation's Mentored Nurse Practitioner/Physician Assistant Award for Workforce Expansion, I was able to experience the ways in which my colleagues in the Washington University School of Medicine (WUSOM) Division of Rheumatology, St. Louis, embody these attributes in their practice.
ADVERTISEMENT
SCROLL TO CONTINUE
Journey to Rheumatology
My first experiences in the medical field provided little interaction with rheumatology, although they did involve the care of patients with complex diagnoses and circumstances.
After earning my undergraduate degree at Belmont University School of Nursing, Nashville, Tenn., I was accepted into a nurse residency program and worked at Vanderbilt University Medical Center, Nashville, on a cardiac step-down unit. I later worked at Vanderbilt's Comprehensive Care Clinic as part of PATHways, a grant-funded project created to engage high-risk HIV patients in care.
ADVERTISEMENT
SCROLL TO CONTINUE
This multidisciplinary program was developed by Robertson Nash, PhD, a nurse practitioner with a focus on identifying every challenge facing patients, including stigma, socioeconomic status and untreated mental health illnesses. The work and mentor­ship of Dr. Nash inspired me to pursue my own graduate education.
I started a Master of Science in Nursing degree program in St. Louis with the goal of becoming a provider with a holistic perspective. In my last semester of graduate school, an opportunity arose through Washington University's School of Medicine to obtain a Musculoskeletal and Rheumatic Disease certificate through the ENRICH program.
This program was created by the clinical director of rheumatology, Deborah Parks, MD, to train NPs in rheumatology. It highlighted to me the complex issues facing patients with rheumatic diagnoses and prompted my interest to work in this specialty.
ADVERTISEMENT
SCROLL TO CONTINUE
Foundation Award
ENRICH provided the foundation and experi­ence to begin my career in rheumatol­ogy, but as I started practicing, I began to see my need for additional structured training. This prompted a Google search that landed me on the Rheumatology Research Founda­tion website, which contained the details of the Mentored Nurse Practitioner/Physician Assistant award.
This award would provide the resources for additional training, while allowing me to operate in a mentorship framework. I knew I needed didactic training, but what most appealed to me about the award was the emphasis on mentorship for growth and development.
My exposure to rheumatology thus far had demonstrated the vast complexities that affect patients with rheumatic illness. I knew that understanding the complexity of rheumatology diagnoses is an essential aspect to their care, but considering the ways in which a person's culture, socioeconomic status, past traumas and mental health affect their physical symptoms is crucial. The ability to see people in this way comes from seeing them through the eyes of those who have this perspective.
I applied for, and received, the award for 2020. It has provided the opportunity for the mentoring that has irrigated my practice, providing me with the holistic perspective needed when I walk into the room of a patient with a rheumatic disease.
From a didactic perspective, this award provided excellent resources for further training. I have since completed the online ARP Advanced Rheumatology Course, attended two ACR conferences and am scheduled to attend a musculoskeletal ultrasound training course. Through the award, I have received opportunities for growth and networking in the field of rheumatology.
Mentors
My mentoring team started with Alfred H. Kim, MD, PhD, an energetic researcher and lupus advocate, who helped develop a personalized mentor team for me and provided necessary support and guidance during my application for the grant.
Both Dr. Kim and WUSOM Rheuma­tology Research Director Seth Eisen, MD, MS, supported me in research endeavors, and assisted me in preparing an abstract I presented at ACR Convergence 2020. This abstract was based on research regarding the prevalence and persistence of depression in patients with systemic lupus erythematosus.
Prabha Ranganathan, MD, while teaching me essential clinical skills, also taught me how valuable the integration of the humanities is to medical professionals in practice. Our discussions of classic literature intermixed with clinical dialogue cultivated a rich perspective of people and their stories.
Dr. Parks dedicated time to training me in musculoskeletal ultrasound in the procedure clinic. Her support has been immeasurably helpful. She has provided me with valuable examples of seeing your patients beyond their medical diagnoses, caring about other aspects of their lives and learning how they are affected by their disease.
Lisa Zickuhr, MD, an assistant professor of medicine and associate clerkship director for internal medicine, has supported me through inclusion in preexisting curriculum used for training rheumatology fellows. Lisa Burnitt, DNP, RN, ANP-BC, has both advocated for and supported me in my first year as an advanced practice provider. Dr. Zickuhr and Dr. Burnitt have given me the opportunity to observe and participate in the education of MD and NP students.
Michael Paley, MD, PhD, a dedicated physician-scientist, has provided sub­specialty training and support in the Ocular Rheuma­tology Clinic. Dr. Paley's patient-centric practice framework has been formative in how I think about treatment plans for my patients and incorporate multi-specialty collaboration to optimize care.
Maria Gonzalez-Mayda, MD, has been my collaborating physician at Casa de Salud, where we volunteer once a month in a rheuma­tology clinic for uninsured patients. This clinic primarily serves non-English speakers. Dr. Gonzalez practices holistically, considering the cost burden of each lab and medication used. With Dr. Gonzalez as an example, I have developed a better understanding of how to use resources well for my patients' best interests—and recognize the vast barriers to care that non-English speakers face in the U.S.
My collaborating physician, Colin Diffie, MD, has provided day-to-day support and facilitated biweekly discussions regarding our patients in the Vasculitis and Rare Disease Clinic. Dr. Diffie exemplifies empathy, demonstrating the need to take the time to understand the unique challenges a patient may be encountering outside the clinic.
In Sum
Throughout the course of my grant year, and thanks to the encouragement of my mentors, I grew in confidence to pursue my own interests in rheumatology. I was nominated for, and am currently serving on, the ACR's newly formed Global Engagement Special Committee, where I am connected to an expanded network of rheumatologists. In addition, I participated in the ACR Advocates for Arthritis event.
I was also able to participate in a joint injection teaching session for first-year residents at Barnes-Jewish Hospital. I have had the opportunity to precept nurse practitioner students enrolled in the ENRICH program during their first exposures to rheumatology.
This grant allowed me dedicated time for career development. I hope to use what I have learned from my mentors to further irrigate and refresh the field of rheuma­tology. Through mentorship, we can cultivate providers who understand and value the innate dignity of their patients and the challenges they face.
---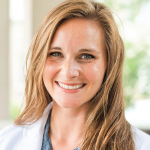 Sara Kellahan, MSN, APRN, AGPCNP-C, is a nurse practitioner at Washington University School of Medicine's Division of Rheumatology. She sees patients in the Vasculitis and Rare Disease Clinic, the Ocular Rheumatology Clinic and in general rheumatology clinics.
Disclosures
Ms. Kellahan has received a Mentored Nurse Practitioner/Physician Assistant Award for Workforce Expansion.
Learn More
This $25,000 award was established by the Rheumatology Research Foundation to increase the supply of rheumatology healthcare providers to better meet the needs of people with rheumatic diseases across the U.S., particularly in geographically underserved areas.