During ACR Convergence 2022 in early November, the ACR and the ARP honored a group of distinguished individuals who have made significant contributions to rheumatology research, education and patient care. This month, The Rheumatologist profiles the recipients of the ARP President's and Merit Awards.
ARP PRESIDENT'S AWARDS
The ARP president can choose to honor ACR/ARP members or teams performing outstanding service within the present year to advance the goals, ideals and standards of the ARP. This year, ARP President Barbara A. Slusher, PA-C, MSW, announced two recipients of the President's Award, Kaleb Michaud, PhD, and Brit Donaldson, PA-C, MMS.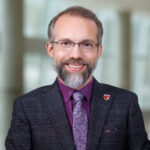 Kaleb Michaud, PhD, is a professor in the Division of Rheumatology and Immunology at the University of Nebraska Medical Center, Omaha.
Dr. Michaud's experiences as a patient with a rheumatic disease have powered his passion and dedication to improving rheumatology and patient outcomes. He serves as director of FORWARD—the National Databank for Rheumatic Diseases, a long-term, open-cohort observational study with over 50,000 enrolled participants. He leads the University of Nebraska Medical Center Rheumatoid Arthritis Investigational Network (RAIN) clinical database and collaborates with the Veterans Affairs Rheumatoid Arthritis (VARA) registry, the Rheumatology Informatics System for Effectiveness (RISE) registry and others.
A scholar in pharmacoepidemiology, health informatics and cost-effectiveness, Dr. Michaud prioritizes mentoring and volunteering to grow the next generation of healers, scientists and difference-makers. Some of his current projects include disease-modifying anti-rheumatic drug (DMARD) adherence, mortality in rheumatic diseases, rheumatoid arthritis activity measures and smartphone-detected health outcomes.
Within the University of Nebraska Medical Center, Dr. Michaud is the director of the rheumatology fellowship research program, chair of the Clinical Research Center pilot grant review committee and leader of the Great Plains Institutional Development Award and Clinical and Translational Research (IDeA-CTR) Mentor Training Facilitator Team. He is dedicated to conducting research that improves care for those living with rheumatic diseases.
Dr. Michaud is an active, 20-year volunteer in the ARP and the ACR. "I am truly honored to receive this award. My volunteer journey in the ARP has been to ultimately make our rheum patients' lives better through research, mentoring and having an organization responsive and responsible for our professionals' needs," says Dr. Michaud. "Being recognized like this along the way comes as a wonderful surprise!"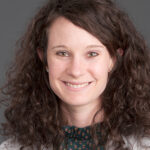 Brit Donaldson, PA-C, MMS, is a physician assistant (PA) in pediatric rheumatology at Atrium Health Wake Forest Baptist, Winston-Salem, N.C. Prior to becoming a PA, she worked in a general pediatrics clinic. She became interested in rheumatology early in her training and started her PA career in adult rheumatology, but then decided to switch to pediatric rheumatology. Ms. Donaldson enjoys working with children with rheumatic conditions and their families and hopes to improve patients' self-efficacy and help them feel supported through their experiences living with chronic conditions.