Five years before my consultation, Leon had developed diabetes and ignored it until diabetic eye complications required laser surgery and a painful diabetic neuropathy affected his feet. He smoked a pack of cigarettes a day and drank "whatever." He'd been banged up and run over; the three surgeries on his back and two on his left knee had left him with a permanent limp. On his medical questionnaire he'd checked off hypertension, high cholesterol and cataracts, and circled depression with the notation, "Wouldn't you be?"
You Might Also Like
Explore This Issue
February 2015
Also By This Author
I strolled past the partially open door to his exam room. He was a big bear of a man, unshaven, his hair a greasy black tangle. A faded plaid wool shirt hung loosely over his chest and flowed over faded blue jeans. His grimy steel-toed work-boots were half-unlaced. The smell of a wood stove drifted into the hallway.
ADVERTISEMENT
SCROLL TO CONTINUE
According to the chart, his current weight of 238 lbs. was down 18 lbs. from six months before. Low-grade fevers and sweats, sometime severe enough to cause him to change his T-shirt, were occurring episodically. His hands hurt. His back and left knee ached. In broken cursive, under chief complaint he'd written, "Feel like sh*t, think I'm dying."
ADVERTISEMENT
SCROLL TO CONTINUE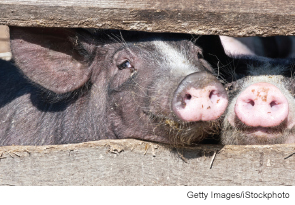 Our patient worked with pigs, an important clue to the eventual diagnosis.
I turned the page to the laboratory studies his family doctor had ordered. Two liver enzymes, AST and ALT, were elevated, but in line with his history of chronic hepatitis C. Several other liver tests, alkaline phosphatase and bilirubin were in the normal range. He was borderline anemic. Lyme and syphilis tests were negative.
Under immunologic testing, his primary had pulled the trigger and ordered every test under the sun. And the problem was, most everything was borderline abnormal. In complex cases such as Leon Woodle's, this phenomenon, diarrhea ordering or scattergun ordering, is inversely related to the likelihood of arriving at the correct diagnosis. Sick people have sick lab results. The more you order, the more abnormal labs pop up. Invariably, additional labs and X-rays are ordered to follow up on the abnormal tests, but with each pull on the slot machine lever, the chances of making the correct diagnosis become more random, less considered.
Patients, for some reason, often admire this "He ordered every test in the book" approach. Never mind that most of the abnormal lab results were irrelevant. For example, Leon's uric acid level was elevated but nothing in his history suggested gout, so why order the test? A rheumatoid factor was up, but positive rheumatoid factors are not only seen in rheumatoid arthritis, but are also triggered by the immune response to … hepatitis C. Antinuclear antibodies? Leon's were borderline high, but there was nothing in his history to suggest lupus.