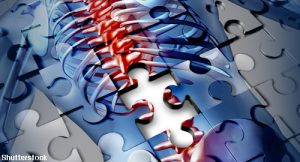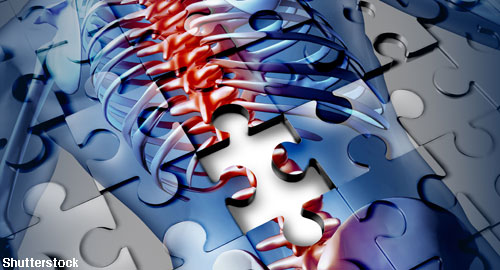 Although dual-energy X-ray absorptiometry is the gold standard for evaluating bone mineral density (BMD), new research suggests trabecular bone score and high-resolution peripheral quantitative computed tomography (HR-pQCT) are also effective for evaluating bone impairment in patients with ankylosing spondylitis (AS). The study by Valeria F. Caparbo, PhD, a researcher at the Faculdade de Medicina da Universidade de Sao Paulo, Brazil, and colleagues found AS patients with lower trabecular bone scores are more likely to experience vertebral fractures. The authors published the results of their bone analysis, believed to be the first study to simultaneously analyze trabecular bone score and HR-pQCT parameters, in Bone.1
The study included 73 male patients with a mean age of 41.6 ± 7.9 years, 77% of whom were HLA-B27 positive. Patients had a mean disease duration of 16.4 ± 8.6 years and a mean Modified Stoke Ankylosing Spondylitis Spinal Score of 25.6 ± 16.4. The investigators compared the AS patients with 52 healthy, male controls, matched by age and body mass index. They found no difference in lumbar spine and distal radius areal bone mineral density. In contrast, total hip BMD and trabecular bone scores were lower in AS patients compared with healthy controls.
When the investigators looked at the distal tibia, they found AS patients had reduced trabecular volumetric density, as well as structural alteration in both trabecular thickness and trabecular separation. Additionally, AS patients exhibited lower values by HR-pQCT analysis in the distal tibia for trabecular volumetric bone density, bone structure parameters and bone strength parameters. Almost half—41%—of AS patients had a trabecular bone score below the normal value of 1.310 compared with only 7.7% of healthy controls. This low trabecular bone score was significantly associated with higher mean body mass index, lower tibia cortical volumetric BMD (Ct.vs. BMD) and lower tibia cortical thickness. The researchers also note that AS patients with a lower trabecular bone scores had significantly lower spinal mobility as assessed by the Bath Ankylosing Spondylitis Metrology Index.
Thus, HR-pQCT revealed significant bone deterioration in the distal tibia of AS patients relative to healthy controls. "Interestingly, the deterioration observed in our patients' distal tibia, but not radius may have been due to the decreased physical activity and increased immobility reported by our AS patients vs. healthy controls," write the authors.
The investigators conclude their paper by suggesting trabecular bone scores may be useful for rheumatologists who want to track bone impairment in AS patients. "Our results demonstrate that the lumbar spine [trabecular bone score] is an accurate, noninvasive measurement that can be used, complementary to [dual-energy X-ray absorptiometry] imaging, to identify bone quality deterioration in AS patients," write the authors.