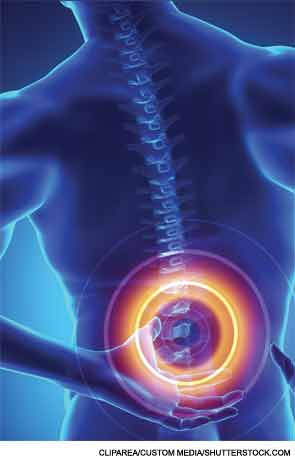 ADVERTISEMENT
SCROLL TO CONTINUE
SNOWMASS,CO—Spondyloarthritis (SpA) is a group of several related but phenotypically distinct disorders: psoriatic arthritis (PsA), arthritis related to inflammatory bowel disease, reactive arthritis, a subgroup of juvenile idiopathic arthritis and ankylosing spondylitis (AS). Early treatment of SpA is key, according to Christopher T. Ritchlin, MD, MPH, professor of medicine and director, Translational Immunology Research Center, University of Rochester (N.Y.) Medical Center.
During his presentation, Shifting Sands: Bone Formation and Degradation in Spondyloarthritis at the ACR's Winter Rheumatology Symposium, Dr. Ritchlin noted that treatment during the early stages of osteitis may stop molecular switching to the bone-forming phenotype that is characteristic of SpA. Treatments that he discussed for their promise in preventing disease progression include tumor necrosis factor inhibitors (TNFi), nonsteroidal anti-inflammatory drugs (NSAIDs) and ustekinumab.
ADVERTISEMENT
SCROLL TO CONTINUE
Bone Remodeling
Normal bone remodeling includes a four-part cycle. During resorption, osteoclasts remove bone mineral and matrix to create an erosion cavity. During reversal, mononuclear cells prepare bone surface for new osteoblasts to begin building bone. During formation, osteoblasts synthesize a matrix to replace resorbed bone with new bone. And finally, the resting phase is a prolonged period that occurs until a new remodeling cycle begins.
"Three different groups of molecules direct mesenchymal cells to differentiate into osteoblasts," Dr. Ritchlin explained. "The first is the BMP [bone morphogenetic proteins] pathway, which triggers the SMAD signaling pathway." BMPs are cytokines that are involved in the formation of bone and cartilage.
The second group of molecules is the Wnt signaling pathway. "Wnts are secreted glycoproteins that bind to the LRP56, which then couples with the G protein-like Fr Receptor and phosphorylates b catenin that then crosses into the nucleus to initiate transcription of genes involved in osteoblast differentiation," Dr. Ritchlin said. "Inhibitors of this pathway include the sol Frz R protein, DKK-1 and sclerostin. Interestingly, DKK-1 and sclerostin levels are low in AS, and DKK-2 receptor signaling is defective in AS, which may help explain the anabolic nature of the disease."
ADVERTISEMENT
SCROLL TO CONTINUE
The third pathway is PGE2, which is an important pathway for promoting osteoblast differentiation. "In fact, NSAIDs can inhibit fracture healing and limit heterotopic bone healing, although their therapeutic role in AS is a matter of debate," Dr. Ritchlin said. "It is important to point out the inter-relationships between these pathways: BMP-2 can induce Wnt-2 expression, and PGE2 can act synergistically with Wnt ligands to increase bone formation."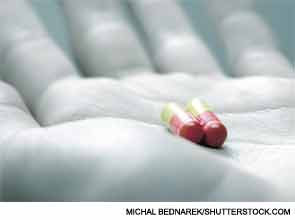 The SpA Bone Phenotype
Structural changes in AS are primarily anabolic, Dr. Ritchlin said. "Bony spur formation begins from the cortical bone surface and arises from bony apposition, which has a vertical orientation," he explained. "Bony spur formation and ankylosis are central features of AS, and evidence suggests that both bony inflammation or osteitis and biomechanical stress are responsible for this phenotype."