Rheumatologists in the United States earn $150,000–$250,000 per year, with an overall median salary of $173,000, according to the first-ever 2011 Physicians Compensation Report by Medscape, an Internet provider of medical information for physicians and consumers. Compensation remained steady in 2010, the survey year, compared with 2009.
In comparison to other specialists, rheumatologists are closer to the lower end of the scale for compensation. For example, the highest-earning specialists are orthopedic surgeons and radiologists, with a median compensation of $350,000, followed by anesthesiologists and cardiologists at $325,000. On the lowest end of the scale are pediatricians ($148,000), primary care ($159,000), endocrinologists ($165,150), and then rheumatologists. Just above rheumatologists are HIV/infectious disease specialists ($174,750) and psychiatrists ($175,000).
ADVERTISEMENT
SCROLL TO CONTINUE
Location, Location, Location
Interestingly, rheumatologists in the Great Lakes region earn $37,500 more than those in the Northeast, according to survey results. A higher income is seen in all specialties in the North Central area of the U.S. (Iowa, Missouri, Kansas, Nebraska, South Dakota and North Dakota), with an average overall median income of $225,000. Among rheumatologists, however, the median income in the North Central area is $167,185.
ADVERTISEMENT
SCROLL TO CONTINUE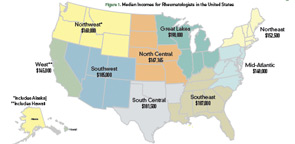 Figure 1: Median Incomes for Rheumatologists in the United States
According to the report, median incomes in geographic areas of the country for rheumatologists (see Figure 1) are:
Northeast $152,500
Mid-Atlantic $148,000
Southeast $187,000
Great Lakes $190,000
North Central $167,165
South Central $181,500
Northwest $160,000
Southwest $185,000
West $145,000
Rheumatologists in midsized cities and suburban areas earn almost $20,000 more than their counterparts in major metropolitan areas, Medscape reports.
ADVERTISEMENT
SCROLL TO CONTINUE
Male–Female Pay Gap Persists
In rheumatology, a pay gap exists between male and female rheumatologists, although the gap is narrower than in some other specialties, according to the Medscape analysis. Men earn a median compensation of $180,000 compared with $153,500 for women. Physician recruiters tell Medscape that women are more likely to seek positions that require fewer hours, in order to handle both career and family life.
Across all specialties analyzed, women report a median income of $160,000 compared with $225,000 for men, with the differences especially noted in orthopedic surgery, cardiology, and gastroenterology—the higher-paid specialties.
Additional Findings
Fifty-three percent of the rheumatologists believe they receive a fair wage for their work, but a large salary spread was noted between practice situations. Rheumatologists working in group single-specialty practices earn significantly more than those in solo practices. Beyond compensation, the report found that nearly 40% of rheumatologists spend 30 to 40 hours a week involved in direct patient care, while 23% spend less; only 5% spend more than 50 hours per week. The amount of time spent does not differ between private practitioners and those considered "employees." More than half the respondents see 50–99 patients a week, 20% see more than 100 patients a week, and 15% see fewer than 25 patients a week.