You Might Also Like
Explore This Issue
January 2014
Also By This Author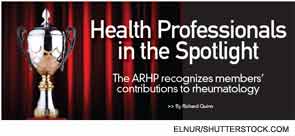 ADVERTISEMENT
SCROLL TO CONTINUE
At the 2013 ACR/ARHP Annual Meeting in San Diego, the ACR and ARHP honored a group of distinguished individuals who have made significant contributions to rheumatology research, education, and patient care. The Rheumatologist spoke with the ARHP winners about their individual contributions to advancing rheumatology. (See the December 2013 issue for interviews with the ACR award winners.)
ADVERTISEMENT
SCROLL TO CONTINUE

Dr. Battafarano
ARHP President's Award
Daniel Battafarano, DO
Chief, Rheumatology Division, San Antonio Military Medical Center (SAMMC), Fort Sam Houston, Texas
Background: Dr. Battafarano was honored and surprised to earn the vaunted ARHP President's Award, but it's not in his personality to take too much time to congratulate himself.
ADVERTISEMENT
SCROLL TO CONTINUE
"I'm just sort of a high-energy, hard-charging guy," he says. "I'm passionate about what I'm doing, whether I'm seeing a patient or teaching, and I'm just trying to contribute to the ARHP, but I didn't realize that I had separated myself enough to be recognized."
Dr. Battafarano graduated from the Philadelphia College of Osteopathic Medicine in 1983 with a direct commission to the U.S. Army. He completed his rheumatology fellowship at Fitzsimons Army Medical Center, affiliated with the University of Colorado Health Science Center, in 1992. Col. Battafarano retired from the Army in 2004, and then joined SAMMC.
He is a member of the ARHP Practice Committee and the ACR Committee on Training and Workforce Issues. He's received more than 10 teaching awards, and has written more than 50 publications in peer-reviewed journals, book chapters, and educational articles.
Q: How has the military shaped your practice?
A: I had many leadership opportunities in the military, and I always work from a selfless service intent with a team approach. No matter what I'm doing, I'm always thinking about how we can have the best outcome, best policy, or best success story collectively. I think that when you have served in the military as long as I did … you realize that there's a lot of delayed gratification. Recognitions like the ARHP award just come as a surprise, since this was never a goal.
Q: What does this recognition mean to you?
A: I have been overwhelmed in the last year with various recognitions, and it has been humbling and exciting to be recognized when you're contributing at a high level. Many attendees at the [annual] meeting congratulated me for my award, many of whom I had never met before. And I really appreciated their feedback.