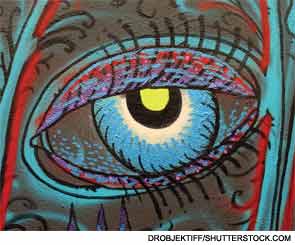 SAN DIEGO—For patients with inflammatory diseases like rheumatoid arthritis (RA), eye complications are a serious event that may lead to vision loss. A rheumatologist and an ophthalmologist/internist updated their colleagues on diagnosing and treating these potential threats at the 2013 ACR/ARHP Annual Meeting, held October 26–30. [Editor's Note: This session was recorded and is available via ACR SessionSelect at www.rheumatology.org.]
Uveitis is an inflammation of any part of the uveal tract and is a serious potential complication of systemic autoimmune diseases, said George N. Papaliodis, MD, director of the ocular immunology and uveitis service at Massachusetts Eye and Ear Infirmary in Boston. "Ocular inflammatory disease is the third-leading cause of blindness worldwide, and 35% of patients with uveitis have some type of visual impairment. The eye does not tolerate inflammation well," he said. In addition, inflammatory eye disease "is an incredibly difficult and expensive disease to treat." For example, a recent look of HLA-B27–associated uveitis showed that the annual average cost to treat this disease is $4,108.60, he noted. Nationwide medical claims figures for treating uveitis-associated blindness were more than $240 million in 2003.
Any layer of the eye may be involved in ocular inflammation, said Dr. Papaliodis. Common forms include iritis, or inflammation of the anterior portion of the eye; choroiditis; episcleritis; scleritis; keratitis; papillitis; and vitritis. Although trauma or medications can cause uveitis, HLA-B27 is the most common cause for recurrent iritis in the U.S. "Approximately two-thirds of these patients have underlying systemic disease causing the problem," said Dr. Papaliodis.
Rheumatologists should always consider autoimmune eye disease as a potential complication in their patients, he said. "My staunch position is that there is no such thing as a standard uveitis workup." The selection of laboratory studies or radiographic imaging should be guided by the patient's clinical examination and associated symptoms, he added.
In patients with HLA-B27–related diseases, rheumatologists can diagnose the most common inflammatory eye complication, iritis, in the office. "Permanent ophthalmic damage may result not only from the underlying disease complications, but from the most common treatments, like corticosteroids," he noted. Cataracts, glaucoma, and cystoid macular edema are three potential complications of iritis, and cataracts and glaucoma also may be related to corticosteroid use.
Although most cases are idiopathic, up to one-third of cases of episcleritis, an inflammation of the thin layer of tissue between the conjunctiva and the sclera, are related to underlying systemic diseases like RA, systemic lupus erythematosus (SLE), inflammatory bowel disease, and psoriasis, he said. Treatments include artificial tears and oral nonsteroidal antiinflammatory drugs, but topical steroid drops, although effective, are rarely used as patients may develop complications from the drops, Dr. Papaliodis noted.