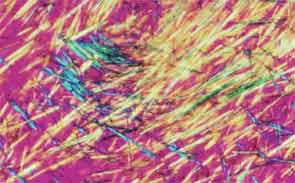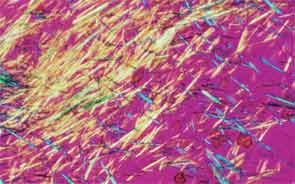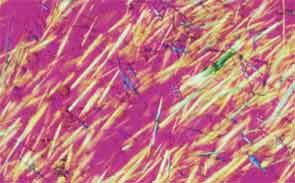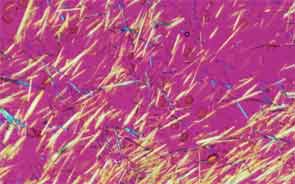 Polarized light micrograph of uric acid crystals in the synovial fluid from a patient with gout.
SAN DIEGO—Microscopic crystals can deposit in joints and contribute to painful inflammation in arthropathies like gout as well as osteoarthritis (OA). Gout affects as many as six to eight million adults, and OA strikes around 27 million adults in the United States, according to the Centers for Disease Control and Prevention.1 Prevalence of these diseases is expected to rise even higher as the older population increases. New research offers clarity on the role crystals play in inflammation and what potential therapies may treat patients more effectively. A panel of global rheumatologists addressed these topics at the 2013 ACR/ARHP Annual Meeting. [Editor's Note: This session was recorded and is available via ACR SessionSelect at www.rheumatology.org.]
Rheumatologists don't yet have a clear vision of why monosodium urate (MSU) crystals form in certain joints in gout, said Nicola Dalbeth, MD, associate professor of medicine at the University of Auckland in New Zealand. More accurate imaging technologies, especially ultrasonography and dual-energy computed tomography (DECT), may help understand the crystals' impact in joints, she said. "Conventional CT is very good for assessing bone damage in gout," Dr. Dalbeth noted. Conventional CT may be used to understand the relationship between erosions and tophi, and tophi may be seen as infiltrating and filling up the joint space in gout cases. Of her recent research of patients with tophaceous gout, Dr. Dalbeth noted, "We saw very close relationships between erosion scores and the size of tophi."
DECT may be used to measure the urate burden in gout patients and visualize the crystals in a tophus, Dr. Dalbeth said. "Dual-energy CT shows us that the composition of a tophus is quite variable," she noted. Additionally, DECT shows how MSU crystals can affect the soft tissues of the joint, Dr. Dalbeth said. "These imaging modalities have really highlighted the involvement of tendons in gout," particularly the Achilles and peroneal tendons, both in the enthesis and body of the tendon, she said.
Microscopic examination of cells within tophi in gout patients reveals a large number of CD68+ cells in the corona zone surrounding the deposits of MSU crystals, as well as cells expressing interleukin (IL) 1ß and transforming growth factor ß-1. These cells may all contribute to the cycle of inflammation in gout. Osteoclasts are also implicated in bone damage in gout, Dr. Dalbeth said. At erosion sites, numerous osteoclast-like cells are found, and enhanced osteoclastogenesis occurs through an interaction of the MSU crystals with stromal cells, she added. RANKL-expressing T cells are also found in the corona zone in tophi, and are related to osteoclast formation. MSU crystals lead to reduced bone formation and then localized bone erosion, she summarized.