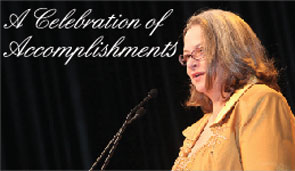 Outgoing ARHP President Nadine T. James, RN, MSN, PhD, introduces the award winners.
At the 2011 ACR/ARHP Annual Scientific Meeting in Chicago, the ACR and ARHP honored a group of distinguished individuals who have made significant contributions to rheumatology research, education, and patient care. The Rheumatologist spoke with the winners about their individual contributions to advancing rheumatology. This month, we'll meet the ARHP award winners, and in a future issue, we'll meet the ACR winners.
You Might Also Like
Explore This Issue
December 2011
Also By This Author
ADVERTISEMENT
SCROLL TO CONTINUE

ARHP Lifetime Achievement Award
Laura Robbins, DSW
Senior Vice President, Education and Academic Affairs, and Associate Scientist, Research Division, Hospital for Special Surgery, New York. Associate Scientist and Professor in Clinical Epidemiology and Health Services Research, Weill Medical College at Cornell University, New York
ADVERTISEMENT
SCROLL TO CONTINUE
Background: Dr. Robbins hadn't planned on a career in rheumatology. While an undergraduate studying social work at City University of New York in Manhattan, she landed a job in the rheumatology division of Downstate Medical Center in Brooklyn, N.Y. Seeing a diverse census of patients diagnosed with rheumatoid arthritis and lupus quickly persuaded her to choose a career path in qualitative research aimed at understanding the relationship of culture and ethnicity in a patient's healthcare experience.
ADVERTISEMENT
SCROLL TO CONTINUE
From Downstate Medical Center, she took a job at the then-Hospital for Joint Diseases, which later merged to form NYU Langone Medical Center's Hospital for Joint Diseases. In 1989, Robbins joined the Hospital for Special Surgery to work with its National Institutes of Health–funded Multipurpose Arthritis Center. The "crucial" move, to quote Dr. Robbins, broadened her résumé and launched her onto a national stage. Among her accomplishments: she chaired the Arthritis Foundation from 2004 to 2006 and, in 2009, was awarded the Charles B. Harding Award, the foundation's highest honor for volunteer service.
Q: What motivated your transition from direct clinical care to the world of research?
A: The population that I was thrown into was people from different cultures, people who didn't have access to care like other folks, and it was an area—rheumatoid arthritis and lupus—that we didn't know much about. Today we call it access to care. I felt it could make a difference in my clinical work … but the research, going back and getting that training, was critical. I was one of the first people in the ACR talking about qualitative research.
Q: Why is that research so important?
A: We need specialists today to deal with diseases. Look at juvenile arthritis. We've made progress, but not in the way we have with adults. There's a whole field wide open…it's crucial we have a good cadre of health professionals that know about the condition and the disease progression, and build on what we know.
Q: What has kept you so enamored with the field over your career?
A: I can't remember what year it was, but I remember being an at an ACR meeting when there was a big push and success in finding a whole army of drugs that changed the course of arthritic diseases. Particularly for rheumatoid arthritis, there were not drugs to slow down the disease.
Fast forward to today, rheumatoid arthritis is still a horrible disease, but there are early interventions now … . I remember walking through the convention hall with an air of excitement. People were excited because these drugs had gone through trials, they were making it through patients, and we were beginning to see the first papers that showed you could alter the course for patients. It was like finding a cure for AIDS.
Q: What do you see as the future of rheumatology?
A: We don't have enough people in the pipeline who will be the senior rheumatologists or the clinical scientists of the future. It's a crucial time. I don't know what the answer will be. For many specialists, there are a lot of unknowns right now, however, we need specialists who understand disease progression and the treatments that are available right now that can enhance quality of life for patients. More than ever, this is a time for rheumatologists … whether it's physicians, physician assistants, nurses, it's time to come together. They need to have one strong voice.

ARHP President's Award
Atul Deodhar, MD, MRCP
Professor of Medicine, Medical Director, Rheumatology Clinics, Division of Arthritis and Rheumatic Diseases, Oregon Health and Science University, Portland
Background: Dr. Deodhar is a bit of a world traveler. He began his studies at B.J. Medical College at the University of Pune in Pune, India, graduating with a Bachelor of Medicine Bachelor of Surgery (MBBS). He completed internal medicine residencies and then earned his MD as well.
After a stint as a hospitalist at King Edward Memorial Hospital in Pune, he earned another postgraduate degree: DNB (Diplomate of the National Board of India) from the National Board of Medical Examiners in New Delhi. In 1989, he moved to England, earned his MRCP (member of Royal College of Physicians, London) and completed a rheumatology fellowship at Royal Cornwall Hospital in Truro, in southeastern England.
He moved to Portland in 1995 and began work as an instructor in medicine and a rheumatology fellowship at OHSU. He joined the faculty in 1998 and is board certified in both internal medicine and rheumatology. In the past 15 years, Dr. Deodhar's research targets have included osteoporosis in inflammatory arthritis and ankylosing spondylitis. He pioneered the usage of hand-bone densitometry as a tool in monitoring the progression of rheumatoid arthritis.
He has also worked on the hypothalamic–pituitary growth hormone axis in fibromyalgia and enteric pathogens­–related reactive arthritis. He's written three books and more than 75 peer-reviewed articles. At the ACR, he has served on committees overseeing the planning of the organization's annual meeting and continues to serve on the abstract selection committee. He is also a member of the new ARHP Membership and Nomination Committee, which seeks to get more rheumatologists involved in the association and its member committees.
Q: Given that you are more accustomed to planning annual meetings and helping determine who wins these awards each year, what does the honor mean to you?
A: It was humbling that whatever little work I did on this over the last four years, they really appreciated it. I've never had anything like this in my career. It's very humbling. Being involved in the annual planning meeting committee … you're putting the spotlight on the shining stars of rheumatology.
Q: You have worked on a web-based initiative to train nurse practitioners and physician assistants to focus on rheumatology. Why?
A: Rheumatology is an extremely multidisciplinary specialty in the sense we are always dependent on other physicians, nurse practitioners, and others. They are playing a more and more important role and ACR recognizes this. There is a real shortage of rheumatologists and we think the nurse practitioners and physician assistants will be a big help in this.
Q: What is the biggest challenge facing the field?
A: The biggest challenge I see is our success. Our success in some ways is threatening our specialty. Teams have become so specialized … the quantum leaps they made, the paradigm shifts in the way we manage diseases. The biggest threat is the lack of manpower.

ARHP Addie ThomasService Award
Debra Bancroft Rizzo, RN, MSN, APNP, FNP-C
Nurse Practitioner, Division of Rheumatology, University of Michigan, Ann Arbor
Background: Debra Rizzo has been a volunteer for rheumatologic causes for the 30 years she's been in the field. She earned her degree as a registered nurse from Columbia Hospital School of Nursing in Milwaukee in 1981 and, six years later, added a bachelor of science in nursing from Carroll University in Milwaukee. Early in her career, she worked with former ARHP President Janice Smith Pigg, a relationship that instilled early on the value of volunteerism. Rizzo recently joined the University of Michigan system. She helped develop the ARHP's first online training program for nurse practitioners and physician assistants and is the scientific editor for the first revision of the program, now called the Advanced Rheumatology Course. Rizzo has authored multiple chapters on rheumatology for nursing curricula.
Her volunteer résumé is just as long. As a board member, she helped lead the Wisconsin state chapter of the Arthritis Foundation from 1999 to 2005. In 2011, she was named the chapter's Yost Volunteer of the Year, in large part due to more than 20 years of volunteering at a camp for children with juvenile arthritis.
Q: Why were you so surprised when you were notified of your ARHP award?
A: There are so many people, especially in the ARHP, that I know who are also such wonderful volunteers. It's maybe that humbling part of me that I don't necessarily look at myself as having done so much. I see so many people around active and doing things. That's why I was surprised and very honored, obviously.
Q: How important is it for younger rheumatology health professionals to get involved in the field outside of their day jobs?
A: When you start working, you get very wrapped up in just getting through your day. Even if you like what you're doing, it can get kind of mundane and you can get stressed out. Getting involved in different areas balances that because, sometimes, you may not overly appreciate just going to work every day. But when you're involved in community organizations or in national professional organization, people really appreciate what you're doing. They understand that it's a stretch for you to take hours out of your week or weeks out of your year to help out. You're really appreciated and they let you know. That's what keeps you going.
Plus you get to network with a group of people well beyond your immediate work situation. That also is something that is beneficial because you see how different people work. You can share different ideas, you can bring those ideas back to your own situation and make changes for the better. There are an unlimited number of benefits to getting involved beyond the workplace.
Q: Why are awards like these important to this specialty?
A: Rheumatology is a small field. We may not get recognition from larger nurse-practitioner organizations or other professional organizations, just because it is a small field. But, in this organization, the ARHP being a multidisciplinary organization, I think it's really important to recognize people for the work that they've done in different areas. And it's a way to bring in and get the newer members to realize that they, too, may be recognized at some point for service or research or being an educator or good clinician. I think it gives them a lot of impetus to stay in the field.

ARHP Master Educator Award
Geri B. Neuberger, RN, MN, EdD
Professor, University of Kansas School of Nursing, Kansas City
Background: After more than 35 years and thousands of students, Dr. Neuberger has no plans to rein in her teaching activity. Born in Louisville, she earned a bachelor's degree from Georgetown (Ky.) College and received a Master of Nursing and a doctoral degree in education from the University of Kansas. She has worked since 1971 as a teacher of undergraduate and graduate nursing at the University of Kansas School of Nursing in Kansas City, spending nearly 20 years with undergrads in the hospital setting. She currently works more closely with the University of Kansas's graduate nursing students. A nurse who believes in the principles of the profession, Dr. Neuberger saw first hand the effects rheumatic diseases can have on loved ones and their families.
In graduate school, her passion for rheumatology was manifest in her Master of Nursing thesis, which looked at programs to help arthritis and rheumatology patients remember to take their medications. "Out of that experience, I applied for my first small grant," she says. "I did a small, follow-up study with a grant through the Association of Rheumatology for Health Professionals." Dr. Neuberger credits much of her success to Dr. Herbert Lindsley and Dr. Daniel Stechschulte, professors in the department of rheumatology at the University of Kansas, who taught and mentored her in the areas of rheumatic diseases when she was a faculty member there.
Q: As with many people in your field, you witnessed the impact of rheumatic disease growing up. How did that experience influence your decision to pursue a career in rheumatology?
A: It had a great impact. I was in my first educational program studying nursing when my mother got rheumatoid arthritis, and later my sister got it when she was 27 years old. And they had very severe forms. … At that time, we had very few drugs to treat them with. Prednisone was used a lot, and of course there are many bad affects you can get from staying on that medication. We had gold injections, but there wasn't the array of drugs that there is now. Both my mother and sister had the deformities that go along with RA; both had to have total knee replacements. I was aware of a lot of the mobility and lifestyle changes that occur when you have a chronic disease.
Q: When you look back on your career, what stands out the most?
A: I had wanted to be a nurse since a young child, and I have never regretted that decision. I think I am very idealistic about the kind of work nurses do and I love nursing. As an educator, I love to learn—and when you are at a medical center, you are constantly learning new things.
I also like to feel that I have had an impact on students, imparting my love of nursing and my respect of the profession and our contributions to patient care, how we can improve outcomes through patient care and teaching the patients. I feel that way about all the individual patients that I have had contact with who have rheumatic disease; hopefully, my teaching and my interventions for their care have helped them as well.
Q: Why have you dedicated so much of your time to ARHP committee work, and how has such work benefited your career as an educator?
A: It's a two-way street. I think my teaching has helped my involvement, and I think my involvement has helped my teaching. One thing I like about the ARHP is that it is multidisciplinary. To see other disciplines and their contributions to the care of persons with arthritis, such as psychologists, physical therapists, dietitians, pharmacologists, just the whole gamut of people … I've really learned to appreciate their contributions. I have to say that the ARHP is my favorite organization.
Q: You've been involved in the ARHP's development of the Fundamentals of Rheumatology continuing education online program for nurses and health professionals. What are the goals of the program?
A: We have already developed an advanced course online for people who work in rheumatology and want to learn more in depth about various rheumatic diseases. This course is more for people who are new to rheumatology or have been in it for a while but maybe haven't studied some of the theory behind the diseases and the new drugs. I think it will find an audience of nurses and other health professionals who work in the clinic. It's for those who want to know more.

ARHP Master Clinician Award
Victoria Gall, PT, MEd
Physical Therapist, Boston
Background: Not all clinicians spend all their time in the office, according to Victoria Gall. This year's winner of the ARHP Master Clinician Award is glad to be recognized for her clinical skills, which she has applied across a broad spectrum of healthcare settings. Born in Connecticut, Gall graduated from Boston University in 1973. Her plan was to stay and work in Boston through the Bicentennial, but she loved Boston so much that she never left. She received a certificate in hydrotherapy from the Royal National Hospital for Rheumatic Diseases in Bath, England, and in 1983, she earned a master's degree in education from Boston University. Her first job was at Robert Breck Brigham Hospital in Boston, where she developed a hydrotherapy program and worked with medical and surgical patients with many forms of arthritis.
Gall spent a decade applying her clinical expertise to research and presenting workshops at ARHP annual meetings. "In the 1980s, I did aquatic and land exercise programs, including the use of the therapeutic exercise ball for persons with ankylosing spondylitis….The things I did years ago are now widely accepted forms of exercise." From 1998 to 2000, she taught English to medical professionals as a Peace Corps volunteer in Turkmenistan. "I feel great about being an active volunteer. It's always been a part of my life," she says. Gall currently works with joint replacement and spinal surgery patients at New England Baptist Hospital in Boston. She also is working with Dr. Matthew Liang's research team at Brigham and Women's Hospital, using the Internet to identify people who might have early-onset rheumatoid arthritis.
Q: Do you consider yourself a pioneer in the field?
A: No, I don't. In the 1980s, there were older colleagues whom I was envious of because they combined clinical work with research. They were the real pioneers.
Q: What would you tell aspiring clinician–researchers about the benefits of presenting their work at a meeting of their peers?
A: Presenting a workshop, or a poster, introduces you to many people who have your interests, who give you new ideas. It's not frightening at all. I am more nervous about going to accept this award, on the stage, in the main hall.
Q: What wisdom do you have for those considering a physical therapy career focused on rheumatology?
A: Since most rheumatic diseases are chronic conditions, you'll develop long-term relationships with the patients you work with and care about. You'll see them during remissions and disease flares….Every case is different and treatments are changing, so you'll be learning all the time.

ARHP Ann Kunkel Advocacy Award
Kam McMillan Nola, PharmD, MS
Vice Chair, Department of Pharmacy Practice, Associate Professor of Pharmacy Practice, Lipscomb University, Nashville, Tenn.
Background: Born and raised in a small, rural community in Tennessee, Dr. Nola took a long and winding path to her current position as a pharmacist educator, administrator, and advocate. She received her PharmD degree from the University of Tennessee in 1995 and a master's degree in pharmaceutical science with a focus in pharmacoeconomics and outcomes research in 1997. Dr. Nola spent eight years as a rheumatology medical science liaison with Immunex Corporation/Amgen Corporation.
Those years in industry, she says, combined with her family's long history of arthritis and rheumatic disease, led Dr. Nola to a career in rheumatology. "Rheumatology was not an intended focus after pharmacy school," she says. "But then I took the position with a small biotech company, which made the drug etanercept [Enbrel]. I got to see the hardcore science, and I knew the scientists in the company. I saw how the drug impacted patients on a day-to-day level.
It was that broad spectrum—of seeing the impact just one medication can make in a patient's life—that really set me on this course in rheumatology." Dr. Nola considers advocacy "a core function of the healthcare professional." She first became involved in advocacy efforts in 1998 with the Arthritis Foundation in Tennessee (AFT), serving several years on the board of directors and meeting with legislators at the Capitol on behalf of foundation. An ARHP member since 1998, Dr. Nola has served on the Advocacy Subcommittee and visited Capitol Hill on numerous occasions. She most recently served on the Government Affairs Committee, and will serve as president of the Tennessee Pharmacists Association in 2012–2013.
Q: How do you balance your teaching interests with your clinical interests and your advocacy interests?
A: That is part of the challenge I have, I love so many different areas of my profession and patient care. I really feel like I am blessed in this academic setting, to be able to follow my interests: public health, advocacy, and education.
Q: How did you first get interested in advocacy?
A: My interest in advocacy comes from having a family that is very engaged, vocal, and always paying attention to elections. Growing up, advocacy was always discussed around the dinner table, and the legislative process was always very important.
Q: What policy lessons do you try to get through to your students?
A: It's important to ask questions to gain an understanding of why things are the way they are, and then to take a stand or communicate your thoughts. Especially right now, with all of the healthcare reform discussion, it's important to know what changes are coming, how they impact practice, and how they impact your patients.
Q: What results have you realized from your work with the Arthritis Foundation in Tennessee?
A: We have done an excellent job of partnering with our state Department of Health, and through Centers for Disease Control and Prevention grants have been able to reach out to over 80 of the 95 counties, with programs and services that make a difference and are evidenced based. Exercise programs, aquatic programs, walking … we really are trying to reach every part of Tennessee.

ARHP Distinguished Scholar Award
Maura Daly Iversen, PT, DPT, SD, MPH, BSc
Behavioral Scientist and Physical Therapist, Northeastern University and Brigham and Women's Hospital, Harvard Medical School, Boston
Background: Dr. Iversen's long and distinguished career as a clinician, educator, and researcher began with a simple study about how patients and providers communicate about exercise as a means of treatment in rheumatoid arthritis. Since that study, Dr. Iversen has published more than 70 original articles and authored more than 25 book chapters and reviews. She's served as a reviewer to dozens of journals, mentored more than 50 master's and doctoral students, and served on numerous committees, panels, and boards of directors (she's past president of the ARHP).
Her early research examined the most beneficial dose and frequency of exercise for patients with various types of arthritic conditions, mainly rheumatoid arthritis, lupus, and lumbar spinal stenosis. In recent years, Dr. Iversen has integrated behavioral interventions into her clinical trials "to help patients stay adherent with the exercise prescriptions, so they can gain the best from what they were receiving."
As professor and chair of physical therapy at Northeastern University, she guides more than 700 students and more than 50 full- and part-time faculty. She spends two days a week in research, and three days teaching or tending to administrative duties. Her current research, funded by the National Institutes of Health, (NIH) she says, is looking at how "to best understand how some patients remain physically active in the face of a chronic illness such as rheumatoid arthritis while others do not, and what can we do to help patients who are struggling with their chronic disease."
Q: How did your career find its way into rheu­matology?
A: Actually, it was the people that I interacted with along my career. When I was in high school trying to decide whether I wanted to be a doctor, I shadowed a rheumatology nurse, Jayne Daly, a nurse at Robert [Breck] Brigham, which is now part of Brigham and Women's Hospital. I thought that rheumatology was interesting. After college, I went to Denmark on an international exchange program that was set up for licensed practicing healthcare providers by Dr. Matthew Liang, who is an ACR Master, and there I had more exposure to rheumatology.
When I returned to the United States, I decided to pursue a research career in rheumatology and continued my graduate work. Now, I am fortunate to be a member of a strong research team led by Dr. Daniel Solomon.
Q: What does teaching mean to you personally and professionally?
A: Mentoring somebody is more than just helping that person develop as a professional. It's learning and growing with them as an individual. Many of the students I've worked with I still keep in contact with now, even though they've been out 10 or 15 years. Some are faculty at other institutions. Some of my PhD students are engaged at a higher research level. For me, mentoring doesn't seem like work; it's a shared experience.
Q: What advice would you give to young researchers?
A: You need to keep your mind open to different types of funding. NIH is the golden ring, if you're an American, but that funding is very tight and highly competitive.
There are foundations that are willing, able, and extremely interested in helping to promote young careers within the field of rheumatology. The ACR Research and Education Foundation is a perfect example.
Q: What has your involvement with ARHP meant to your patients?
A: I have been very active with the organization at different levels. I think probably the area that I feel most passionately about is patient advocacy and advocacy in general for the field of rheumatology. Certainly, I believe we've made some strides with respect to reimbursement and government issues around healthcare, although we still have a long way to go. Advocacy is one way that, as an individual, you can make a difference.
Whether advocating with senators, congressmen, or their health legislative assistants, our stories are more impactful when we share our patient experiences or visit the hill with our patients.
Richard Quinn is a freelance writer based in New Jersey.