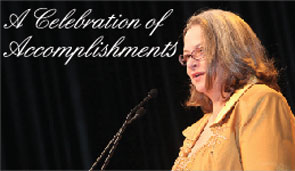 Outgoing ARHP President Nadine T. James, RN, MSN, PhD, introduces the award winners.
At the 2011 ACR/ARHP Annual Scientific Meeting in Chicago, the ACR and ARHP honored a group of distinguished individuals who have made significant contributions to rheumatology research, education, and patient care. The Rheumatologist spoke with the winners about their individual contributions to advancing rheumatology. This month, we'll meet the ARHP award winners, and in a future issue, we'll meet the ACR winners.
You Might Also Like
Explore This Issue
December 2011
Also By This Author
ADVERTISEMENT
SCROLL TO CONTINUE

ARHP Lifetime Achievement Award
Laura Robbins, DSW
Senior Vice President, Education and Academic Affairs, and Associate Scientist, Research Division, Hospital for Special Surgery, New York. Associate Scientist and Professor in Clinical Epidemiology and Health Services Research, Weill Medical College at Cornell University, New York
ADVERTISEMENT
SCROLL TO CONTINUE
Background: Dr. Robbins hadn't planned on a career in rheumatology. While an undergraduate studying social work at City University of New York in Manhattan, she landed a job in the rheumatology division of Downstate Medical Center in Brooklyn, N.Y. Seeing a diverse census of patients diagnosed with rheumatoid arthritis and lupus quickly persuaded her to choose a career path in qualitative research aimed at understanding the relationship of culture and ethnicity in a patient's healthcare experience.
ADVERTISEMENT
SCROLL TO CONTINUE
From Downstate Medical Center, she took a job at the then-Hospital for Joint Diseases, which later merged to form NYU Langone Medical Center's Hospital for Joint Diseases. In 1989, Robbins joined the Hospital for Special Surgery to work with its National Institutes of Health–funded Multipurpose Arthritis Center. The "crucial" move, to quote Dr. Robbins, broadened her résumé and launched her onto a national stage. Among her accomplishments: she chaired the Arthritis Foundation from 2004 to 2006 and, in 2009, was awarded the Charles B. Harding Award, the foundation's highest honor for volunteer service.
Q: What motivated your transition from direct clinical care to the world of research?
A: The population that I was thrown into was people from different cultures, people who didn't have access to care like other folks, and it was an area—rheumatoid arthritis and lupus—that we didn't know much about. Today we call it access to care. I felt it could make a difference in my clinical work … but the research, going back and getting that training, was critical. I was one of the first people in the ACR talking about qualitative research.
Q: Why is that research so important?
A: We need specialists today to deal with diseases. Look at juvenile arthritis. We've made progress, but not in the way we have with adults. There's a whole field wide open…it's crucial we have a good cadre of health professionals that know about the condition and the disease progression, and build on what we know.