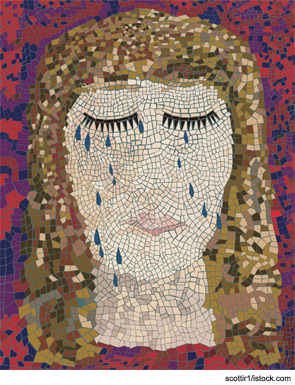 RA can cause debilitating pain and isolation.
The words rheumatoid arthritis (RA) should put the same fear of God into people as the word cancer does, but they don't. People wonder why someone who only has arthritis would subject themselves to possible side effects like "fatal infections," "lymphoma," "cancers," "seizures," "new or worsening heart failure," and "multiple sclerosis" that come with the drugs that treat this disease. I used to think the same thing—now I know better. People hear "rheumatoid arthritis" and they think it's like having the ache and stiffness you get when you've worked out too long doing something your body isn't used to. This couldn't be further from the truth.
My History of RA
I was diagnosed in April 2010, at 44 years old, with seropositive RA; the disease rapidly turned my life upside down. Although moderate at first, within the next two months it became severe and out of control.
I had worked for a decade as a logger and, following that, another eight years as a long-haul truck driver. Taking a job in dispatching, then accounting for a small trucking company in Reno, I finally had the time with my husband to enjoy our hobbies of rock collecting and fishing. We have a small orchard, a very large garden, and a flock of friendly chickens to care for. A few years into our new, quieter life, my disease hit. The RA was taking away everything I loved to do and making even the simplest tasks a trial of pain.