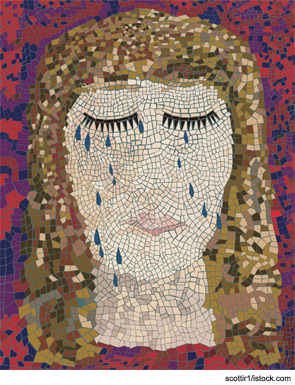 RA can cause debilitating pain and isolation.
The words rheumatoid arthritis (RA) should put the same fear of God into people as the word cancer does, but they don't. People wonder why someone who only has arthritis would subject themselves to possible side effects like "fatal infections," "lymphoma," "cancers," "seizures," "new or worsening heart failure," and "multiple sclerosis" that come with the drugs that treat this disease. I used to think the same thing—now I know better. People hear "rheumatoid arthritis" and they think it's like having the ache and stiffness you get when you've worked out too long doing something your body isn't used to. This couldn't be further from the truth.
My History of RA
I was diagnosed in April 2010, at 44 years old, with seropositive RA; the disease rapidly turned my life upside down. Although moderate at first, within the next two months it became severe and out of control.
I had worked for a decade as a logger and, following that, another eight years as a long-haul truck driver. Taking a job in dispatching, then accounting for a small trucking company in Reno, I finally had the time with my husband to enjoy our hobbies of rock collecting and fishing. We have a small orchard, a very large garden, and a flock of friendly chickens to care for. A few years into our new, quieter life, my disease hit. The RA was taking away everything I loved to do and making even the simplest tasks a trial of pain.
I had many flares before I started biologic therapy. I was diagnosed less than two months from the first bad flare in my shoulder, which occurred on March 1, 2010, the day after a long flight back from Australia. My primary care doctor was very concerned and thought it might be a blood clot. After testing came back normal, it was decided that I had bursitis. Although I'd had some migratory joint pain for a few months, I thought it was just a part of getting older and it wasn't until I was gingerly planting some garden bulbs several days later that the knuckles of my right hand swelled up painfully and I realized something was very wrong. Off to the doctor again, more tests, and a referral to a rheumatologist, with whom I was very lucky to get an appointment within just two weeks. A couple of days after that I began to have very bad flares and started my first prednisone taper. Shortly thereafter I was diagnosed with RA and I started methotrexate the same day, April 19, 2010.
By June 2 the disease was affecting every part of my life. My methotrexate had been increased, but I was only getting worse. I started another prednisone taper and, as the dosage decreased, the pain increased and became constant. On June 22, my doctor started the preauthorization for a biologic, and put me back on prednisone.
When the Flare Hits
When the knee flare first starts it feels like I'm out of joint slightly, there is mild pain and some pressure. Then as it progresses, the pain becomes constant and it's as if my knee is broken—it won't bend correctly, there is lots of pressure in the wrong directions, it feels like it's constantly being twisted the wrong way. Then, when the flare is full on, it feels like my knee is being sawed through very slowly, the saw never finishing the job but just going back and forth, ripping out bits of me.
Now add my other knee, an ankle, a few toes, both elbows, a shoulder, a hip, both wrists, both thumbs, and most of my fingers. All these parts of me are being attacked by an invisible saw.
Then add the tiny joint in my vocal cords, so even as I cry out because I can't move and the pain is so bad and I need help. My voice is too hoarse and fails, so I just wait—minutes seem like hours—until my wonderful husband, Bob, checks on me again.
He gives me another pain pill, but it can't touch this pain, and I'm already over the maximum dose. I desperately want to blow my nose because I've been crying, but I can't move my arms, so Bob has to hold a tissue for me; it's clumsy and I get goo all over my face, and I just want to die. I'm thirsty, but I'm afraid if I drink I'll have to use the bathroom, so I don't. The night stretches ahead, and Bob finally falls asleep nearby, my beacon of light in an ocean of pain.
I feel that if I could just shift my body slightly on the bed I would feel a little relief. Even though I know it won't work, my mind torments me, sure that if I could just lie a little more on one side I would feel less pain. Finally I try to move, just to roll onto my side, but I can't, and after several attempts I am exhausted and give up. I wake up Bob and he moves me and props up my pillows, but just a few seconds on my side and my shoulder makes me start screaming in pain. Bob puts me back and I try to stay quiet because I know how badly he is feeling for me and how tired he is. There are still several hours to go before dawn comes and we can leave for the doctor's office.
People who don't have RA say it causes stiffness and pain. Those words seem awfully benign compared to what really happens.
My nose itches but I can't scratch it. The feeling of helplessness becomes so overwhelming that I start to weep and Bob has to come to the rescue because I start choking on my own tears. He props me up some more and talks to me quietly until I calm down. I make him promise me that if the new drug doesn't work, he will let me go. He gets upset and tells me the drug will work, but I have to know that he won't hold me here if my body stays this way and nothing works. Then I laugh and tell him that there's not much to worry about when I can't even blow my own nose.
Several hours later I sit in a wheelchair. My doctor gives me a shot of Depo Medrol and puts me on a maintenance dose of prednisone. By that night, I can roll onto my side and get off the toilet by myself, and by the next morning I go back to work.
The Doctor, Medicine, and Relief
People who don't have RA say it causes stiffness and pain. Those words seem awfully benign compared to what really happens. The stiffness is incredible, it's like something wraps you in invisible packing tape during the night. It's not just morning stiffness either—for me it was like a heavy fog, lifting slightly in the middle of the day only to roll in again by late afternoon. And the pain…I didn't know they made pain like that.
Even with the prednisone, I still had a lot of pain, but at least I could function. I started the biologic and was very lucky because I felt improvement exactly three days after the first shot. My life has quality again, and I feel lucky to have access to this drug that helps me so much. My biggest fear is that the drugs will stop working. My biggest frustration is all the people who think this disease isn't serious.
I realize now how fortunate I was to be diagnosed and treated in such a short period of time. I cannot even contemplate what my life would have been like if it had taken longer to get relief, and I am forever grateful to my kind and caring rheumatologist.
For some of us, response is limited, the drugs stop working, or access to medication is not possible. For the first time, as I write this, I feel that something good will come from all that pain. More awareness of what many of us go through with this disease. Validation for a disease that changes lives and steals dreams.
---
Lisa Glavish lives in Reno, Nev.